See! He trails his toes
Through the long streaks of moonlight,
And the nails of his fingers glitter:
They claw and flash among the tree-tops.
His lips suck at my open window,
And his breath creeps about my body
And lies in pools under my knees.
I can see his mouth sway and wobble,
Sticking itself against the window-jambs,
But the moonlight is bright on the floor,
Without a shadow.
Hark! a hare is strangling in the forest,
And the wind tears a shutter from the wall.


This poem is in the public domain.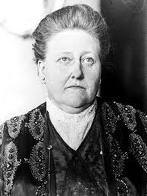 Amy Lowell (1874 - 1925) was born in Brookline, Massachusetts, to a family of significant wealth and social standing. In keeping with the standards of the time, she received little formal education and was, in fact, a notoriously poor speller, but she was an avid and discriminating collector of books, traveled extensively, and educated herself in many areas. Amy began writing and publishing when she was in her mid-twenties and, at one point, was publishing a book a year. A large, imposing woman fond of smoking cigars, Amy was a good promoter and a vocal advocate of poetry; that plus her reputation for eccentricity brought sell-out crowds to her readings and lectures.
There are no comments for this poem yet.