Dr. Zhivago was playing at the Paramount
Theater in St. Cloud. That afternoon,
we went into Russia, 

and when we came out, the snow
was falling, the same snow
that fell in Moscow.

The sky had turned black velvet.
We'd been through the Revolution
and the frozen winters.

In the Chevy, we waited for the heater
to melt the ice on the windshield,
clapping our hands to keep warm.

On the highway, these two things:
a song from Sgt. Pepper's Lonely Hearts Club Band
and that semi-truck careening by.

Now I travel through the dark without you
and sometimes I turn up the radio, hopeful
the way you were, no matter what.

From First Words (Red Dragonfly Press, 2010)
Used with the author's permission.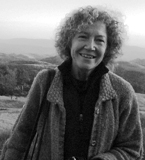 Joyce Sutphen is the author of four award-winning books of poetry and co-editor of To Sing Along the Way, an anthology of Minnesota women poets. A professor of literature and creative writing at Gustavus Adolphus College in St. Peter, Minnesota, she has garnered multiple fellowships and residencies in the course of her poetry career. The oldest of nine children, Joyce is mother to three daughters and has six grandchildren. She loves both prairie and city and says "a perfect afternoon for me would be a long walk around the big marsh behind my house, or a ramble through Holland Park in London." A fan of Shakespeare, Joyce often uses her commute time to memorize poems by favorite poets.
Buckner14:
Utterly beautiful and moving!
Posted 11/10/2010 03:04 PM
dotief@comcast.net:
How incredibly poignant! Beautifully written and with such a powerful end.
Posted 11/08/2010 08:47 AM