Now's the time when children's noses
All become as red as roses
And the colour of their faces
Makes me think of orchard places
Where the juicy apples grow,
And tomatoes in a row.

Come then, find your ball and racket,
Pop into your winter jacket,
With the lovely bear-skin lining.
While the sun is brightly shining,
Let us run and play together
And just love the autumn weather.

This poem is in the public domain.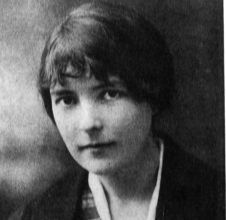 Katherine Mansfield Beauchamp (1888–1923) was a New Zealand poet and short story writer who began publishing work at the age of ten, although her original intent was to be a cellist rather than a writer. Born into a well-to-do family, an annual stipend from her father kept Katherine from ever having to work; she lived and traveled around Europe, writing and befriending fellow writers such as D. H. Lawrence and Virginia Woolf. While her personal life was tumultuous, her literary achievements were stellar; Katherine is today considered New Zealand's most famous author and one of the most significant influences on twentieth century short story writers. She published three books before her death from tuberculosis at the age of 34; two additional books were published posthumously.
dotief@comcast.net:
How cute! And now that I have red-nosed grandchildren who love to play outside no matter the weather, it all takes on new meaning. Thanks for sharing this one.
Posted 11/09/2010 08:40 AM
Buckner14:
I've always admired Mansfield's short stories, didn't know she wrote poetry--though I remember reading this when I was in elementary school, before encountering her fiction. Thank you!
Posted 11/09/2010 07:29 AM