Awesome! she said as soon as I spoke
a few words for coffee. Can I get your name?
Don, I said, D-O-N, and felt stupid
for spelling it out, until she said Cool!
It was raining and my desk job
three blocks away, four stories up,
so I said Make that extra hot
and she said No worries – how's your day so far?
OK, I mumbled, and she said Right on!
Anything else with that today?
I was about to say no thanks but my eye
caught on the bouquet of biscotti
and I pointed to the ginger one.
Excellent! she said, your total comes to $3.50.
Which is ridiculous for a small paper cup
of steamed milk and a biscuit to stir it with
but I counted out three ones a quarter two nickels a dime
and five pennies and she said Perfect!
My drink was on the bar – Eight-ounce extra hot
skinny no-whip one-pump mocha for Dan –
and I carried it out into the cold rain,
the awesome unsung day.
From Because You Might Not Remember (Finishing Line Press, 2010).
This poem first appeared in Cloudbank.
Used here with the author's permission.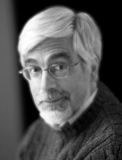 Don Colburn was born in Georgia, grew up in Massachusetts, and now lives in Portland, Oregon. A longtime newspaper reporter who didn't start writing poems until he was nearly 40, Don worked for The Washington Post and The Oregonian during the 33-year course of his newspaper career, and was a finalist for the Pulitzer Prize in feature writing. He has published three collections of poems, one of which won the Finishing Line Press Prize, and another won the Cider Press Review Book Award. Don's poems have appeared in anthologies and many magazines and he is a board member of Friends of William Stafford. Learn more about him at www.doncolburn.net.
bmi:
Don I've always enjoyed your work. This one is wonderful too. Jan Baross
Posted 11/15/2010 05:28 PM
carolworks:
Possible to have skinny with a pump of mocha? Only if you are extra hot!
Posted 11/15/2010 12:28 PM
David Cooke:
This poem glows with one of your many voices..happily exasperated. Like a cup of coffee..warm and caffeinated but a little bitter.
Posted 11/15/2010 11:15 AM
absee:
Alan: Laying down enough change to get the treat you want. Laying down enough words to get the poem you want. Keep spending, D-O-N!
Posted 11/15/2010 10:46 AM
loisflmom:
Hey Dan-- No tip for the barista? Shame!
Posted 11/15/2010 09:59 AM
Carol Hauer:
I'm reading about drinking coffee while I'm drinking coffee...double the pleasure. What a good way to start the day.
Posted 11/15/2010 08:18 AM
jeanie:
Awesome!!! love it.
Posted 11/15/2010 06:11 AM