"There are nearly thirteen million people in the world. None of those people is an extra. They're all the leads of their own stories."
~Charlie Kaufman, from his film, Synecdoche, New York
Playing the lead in a haystack,
existing side-by-side in our solitary lives,
solace comes when we join these needles together —
the thread of life.

Jumping into character,
taking leave of the present world —
who wears your clothes when you sleep?

I am just a forgotten pebble —
a spark of granite daring to glint.
You see me walking down the street —
out of focus arms and legs —
a disappearing narrative.

The screens keep getting wider —
a stage full of leading ladies and leading men.
They all spin in circles —
red curtains flying.

The cleaner, unheard,
leaves all untouched except the dust.
The man attached to his phone,
alone on the airport walkway,
has a family waiting.
The actress learns her lines on a threadbare couch,
sitting on hope.
We are all One Story.
This poem appears in both The Red Drum (Lulu, 2008) and Unsung Love Songs (Lulu, 2010).
© 2008 by Cristina M. R. Norcross.
Used here with the author's permission.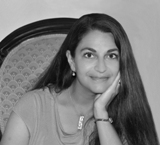 Cristina M. R. Norcross lives in Wisconsin with her husband, their two sons, and a cat who loves to sleep on a warm, humming computer. Cristina is the founding editor of the online poetry journal, Blue Heron Review (www.blueheronreview.com) and the author of seven poetry collections. When not writing or editing, she travels to distant lands and designs jewelry from found treasures. Learn more about Cristina at  www.cristinanorcross.com.
transitions:
This is what word are for ~ to be used beautifully and to linger... Thank you, Cristina, I loved it. Judy
Posted 11/30/2010 02:52 PM
Cathleen LaTour:
I read this poem one time through and I knew, in the first few words, that these words would be with me for a very long time. This poem will be waiting for me in my favorite category of poems "words that can save your life..." Thank you, Cristina.... cml 11/16/2010
Posted 11/16/2010 02:30 PM
Katrina:
This is deep. It is broad. I love being told what I already know by someone without an agenda. Applause!
Posted 11/16/2010 06:26 AM
flygal716:
Good morning, Cristina. I so enjoyed your poem today at "Your Daily Poem" and had to follow the links to your blog, where I read and related to your last two posts. Thank you for your insights, and for such a good poem! Toby Speed http://tobyspeed.blogspot.com www.tobyspeed.com p.s. I was unable to leave a comment on your blog.
Posted 11/16/2010 06:08 AM