Just as the moon was fading
Amid her misty rings,
And every stocking was stuffed
With childhood's precious things,

Old Kriss Kringle looked around,
And saw on the elm-tree bough,
High hung, an oriole's nest,
Lonely and empty now.

"Quite a stocking," he laughed,
"Hung up there on a tree!
I didn't suppose the birds
Expected a present from me!"

Then old Kriss Kringle, who loves
A joke as well as the best,
Dropped a handful of snowflakes
Into the oriole's empty nest.

This poem is in the public domain.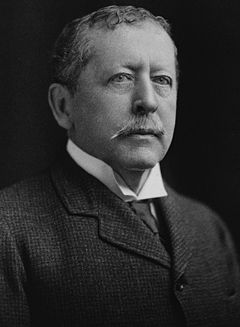 Thomas Bailey Aldrich (1836 – 1907) was a poet, novelist, short-story writer, and editor. Born in New Hampshire but raised in New Orleans, he started writing as a teenager and moved to New York after the death of his father. While working for his uncle, he began publishing stories and poems, and became friends with a circle of other young poets and writers which included Walt Whitman. Successful in all genres, Thomas worked as a war correspondent for a time, then returned to New York to work as a magazine editor. Ultimately, he ended up in Boston as editor of Atlantic Monthly. Thomas was greatly admired for his talent during his lifetime and inspired many other successful writers, including Mark Twain--who supposedly drew his inspiration for Tom Sawyer from Thomas' novel, Story of a Bad Boy.
There are no comments for this poem yet.