I imagine my mother that night,
listening to the radio,
Glenn Miller's String of Pearls,
Edward R. Murrow wishing the world
good night and good luck
then breaking news...
the bombing of Pearl Harbor.
My mother's hands are folded
on the mound that is me,
that pulsating cord connecting us.
I wonder if I know her fear,
feel the tightening, the terror,
the anger, suppressed
because of the child in her belly.
She feels me moving beneath her dress,
and thinks of Japanese mothers
and their babies soon to be born,
as I will be born three months later.
I have not yet lived long enough
to see world peace.
So many never have the chance.


© by Sharon Auberle.
Used with the author's permission.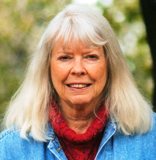 Sharon Auberle is the author of two books, Saturday Nights at the Crystal Ball: a Memoir in Poetry (currently out of print), and Crow Ink, a collection of her poetry and photographs. She is venturing into the world of recorded word, via a CD, Something After Burning, with music backup provided by some of Door County, Wisconsin's finest musicians. The poems are taken from her book by the same name, to be released in the fall. The CD is available, for $12 plus $3.50 S. & H., from the author at P.O. Box 701, Sister Bay, Wisconsin 54234. When not doing any of the above, Sharon tramps the woods near her home in pursuit of the chanterelle mushroom, which she says is having a bumper year. Learn more about Sharon here.
jeanie:
love your poem, sharon. that line " i have not yet lived long enough to see world peace" stops my heart with sadness. the sad and poignant truth. but we'll keep singing... "i swear it's not too late"
Posted 12/07/2010 05:33 PM
Joe Sottile:
Sharon Auberle captures a historic moment in time with great clarity. One of the wonderful aspects of this website is that it reminds readers and poets that we can read and write about anything--that is, any topic can touch us and transform us. Jayne with this website enriches the lives of all its readers. Thank you, Jayne.
Posted 12/07/2010 11:05 AM
dianapoet:
I like your poem
Posted 12/07/2010 08:43 AM