Everyone grumbled. The sky was grey.
We had nothing to do and nothing to say.
We were nearing the end of a dismal day,
And there seemed to be nothing beyond,
THEN
Daddy fell into the pond!

And everyone's face grew
merry and bright,
And Timothy danced for sheer delight.
"Give me the camera, quick, oh quick!
He's crawling out of the duckweed!"
Click!

Then the gardener suddenly
slapped his knee,
And doubled up, shaking silently,
And the ducks all quacked
as if they were daft,
And it sounded as if the old drake laughed.
Oh, there wasn't a thing that didn't respond
WHEN
Daddy fell into the pond!

Used with the permission of The Society of Authors as the Literary Representative of the Estate of Alfred Noyes.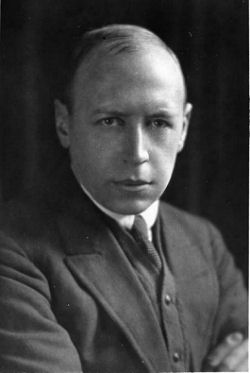 Alfred Noyes (1880 - 1958) was an English writer whose body of work included poetry, novels, short stories, children's books, and plays. He attended Oxford, but failed to earn a degree because, supposedly, he missed his final exams to meet with the publisher who was preparing his first collection of poems. By the time he was 27, Alfred had six books in print, one of which included "The Highwayman," a rousing tale of adventure which remains popular to this day. Alfred's poetry was popular in both public and academic circles; he was able to support his family from the royalties off his books. He did several lecture tours in the U.S. and was a visiting professor at Princeton for a time; one of his students was F. Scott Fitzgerald.
erinsnana:
Loved it!
Posted 07/18/2014 08:50 AM
Cindy:
I can just see it! So good.
Posted 07/18/2014 08:20 AM
paradea:
I absolutely love this. Laughter IS the best medicine, accessible to everyone!!
Posted 07/18/2014 08:07 AM