The day begins with order
and quiet, broken
only by the small ringing
of the spoon against coffee mug.
If this small ritual goes well,
no spilling, no drips,
there is hope for the day.
Copyright by Dory L. Hudspeth.
Used with the author's permission.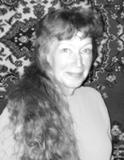 Dory Hudspeth, from Alvaton, Kentucky, is an herbalist, historical researcher, freelance writer and poet. Her award-winning poems, short stories, and magazine articles have appeared in many journals and anthologies nationwide and she is the author of two poetry collections Dory lives in Bowling Green, Kentucky.
Ross Kightly:
Some of us go to a Temple of the Coffee and Cake Arts, such as Cafe Zone in Halifax, to perform the ritual but the portents remain equally potent! Lovely poem, thank you.
Posted 07/20/2014 12:19 AM
phebe.davidson@gmail.com:
Amen!
Posted 07/19/2014 08:47 AM
KevinArnold:
Brevity and concision join together to start the day. Well done.
Posted 07/18/2014 11:42 PM