They say he came in winter, the first born son
of no one much – some wood worker poor as dust
and his fey lady-love —, born on the run
as such ones always are, caught at the last
decent moment in his daddy's hands. Not one
spot of warmth except those palms, just
cold straw, a cold barn, a white winter's moon.

But this is where our story turns: that hot
baby body wriggling and reaching for another
body to nestle to. How could they not
cuddle him up? The old man, the mother
bloodied and chilled, and the spooked flock

huddling to that boy in the grain bin;
that child, warm as a lamb from his Father's hands.
Copyright 2009 by Dana Wildsmith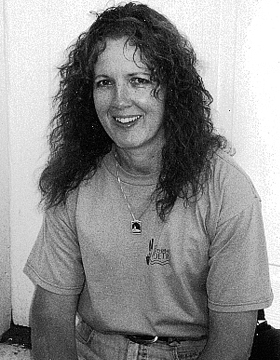 Dana Wildsmith is the author of four collections of poetry and a newly released memoir, Back to Abnormal: Surviving with an Old Farm in the New South. Born and raised in rural South Georgia, she traveled extensively as a Navy wife before settling in Bethlehem, Georgia, on a century-old family farm outside Atlanta. Dana's love of family, nature, music, tradition, and life's simple joys is the focal point of her poignant, compelling work, which has been featured in numerous journals, magazines, and anthologies, including the highly acclaimed Listen Here: Women Writing in Appalachia. She is a gifted, generous teacher as well, sharing her passion for language from ESL classes at Lanier Technical College to The Island Institute in Sitka, Alaska. Most recently, Dana was Artist-in-Residence for the South Rim of the Grand Canyon National Park. Learn more about her at www.danawildsmith.com.
dotief@comcast.net:
Lovely and very real!
Posted 12/25/2010 12:07 PM