"In those days a decree went forth from Caesar Augustus that the whole world should be
enrolled. This was the first enrollment, when Quirinius was governor of Syria. So all went
to be enrolled, each to his own town. And Joseph too went up from Galilee from the town
of Nazareth to Judea, to the city of David that is called Bethlehem, because he was of the
house and family of David, with Mary, his betrothed, who was with child. While they were
there, the time came for her to have her child, and she gave birth to her firstborn son. She
wrapped him in swaddling clothes and laid him in a manger, because there was no room
for them in the inn."  --Luke 2: 1-7
It is quiet now, the caravans still, the road empty.
Travelers, weary with walking, sleep in their beds.
The innkeeper's wife steps through the courtyard door,
stands for a moment in the winter air and rubs her
hands against the chill. She smoothes the folds of her robe
and looks up at the strange new star. It frightens her,

the way its light fills the twisted cypress and whitens
the road from Galilee. It dims the lamps, scours the grit-
laden wind as if night and noon have met in a gilded
witness above Judea's hills. She thinks of the couple,
how tired they seemed. There was no room left but
the stable. Their child will come soon, she knows

the signs. In her own bed, the light keeps her awake.
Baking bread, sweeping floors, childbirth ? these are
things she understands. But that star, that star!
Her husband moves beside her, mutters into his
dream. A newborn's cry rises from broken straw ?
off in the fields a shepherd calls to his lambs.
© by Adele Kenny.
Used with the author's permission.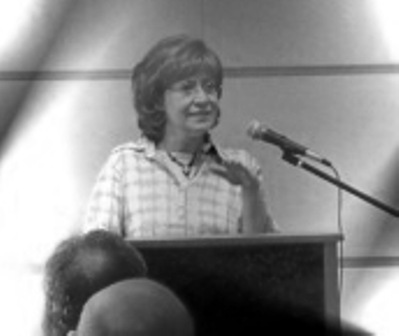 Adele Kenny is the author of 24 books (poetry & nonfiction). Her poems, reviews, and articles have been published in journals in the U.S. and abroad and in several anthologies. She is the recipient of various awards and fellowships from the NJ State Arts Council, and her new collection of poems, What Matters, is scheduled for publication in Spring 2011. Adele maintains an active schedule of readings and workshops, directs the Carriage House Poetry Series she founded in 1998, and serves as poetry editor of Tiferet. An animal lover, she has raised three Yorkshire Terriers (Dylan, Yeats, and Bijou), and numerous exotic birds. To learn more about Adele, or to receive her weekly poetry prompts, visit http://adelekenny.blogspot.com/ or http://www.adelekenny.com/.
transitions:
a remarkable new 'take' on the Christmas story. So original; I really enjoyed it. Thank you for adding to my Christmas... Judy
Posted 12/26/2010 09:59 PM