Full knee-deep lies the winter snow,
And the winter winds are wearily sighing:
Toll ye the church bell sad and slow,
And tread softly and speak low,
For the old year lies a-dying.
       Old year you must not die;
       You came to us so readily,
       You lived with us so steadily,
       Old year you shall not die.

He lieth still: he doth not move:
He will not see the dawn of day.
He hath no other life above.
He gave me a friend and a true truelove
And the New-year will take 'em away.
       Old year you must not go;
       So long you have been with us,
       Such joy as you have seen with us,
       Old year, you shall not go.

He froth'd his bumpers to the brim;
A jollier year we shall not see.
But tho' his eyes are waxing dim,
And tho' his foes speak ill of him,
He was a friend to me.
       Old year, you shall not die;
       We did so laugh and cry with you,
       I've half a mind to die with you,
       Old year, if you must die.

He was full of joke and jest,
But all his merry quips are o'er.
To see him die across the waste
His son and heir doth ride post-haste,
But he'll be dead before.
       Every one for his own.
       The night is starry and cold, my friend,
       And the New-year blithe and bold, my friend,
       Comes up to take his own.

How hard he breathes! over the snow
I heard just now the crowing cock.
The shadows flicker to and fro:
The cricket chirps: the light burns low:
'Tis nearly twelve o'clock.
       Shake hands, before you die.
       Old year, we'll dearly rue for you:
       What is it we can do for you?
       Speak out before you die.

His face is growing sharp and thin.
Alack! our friend is gone,
Close up his eyes: tie up his chin:
Step from the corpse, and let him in
That standeth there alone,
       And waiteth at the door.
       There's a new foot on the floor, my friend,
       And a new face at the door, my friend,
       A new face at the door.


This poem is in the public domain.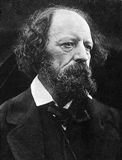 Alfred Tennyson (1809 - 1892) is one of the world's most beloved and enduring poets. Born in a small English village to comfortable, devoutly religious parents (his father was a clergyman, his mother the daughter of a clergyman), Alfred was one of twelve children. He enjoyed an idyllic childhood, though later years brought family issues, and his father's death caused Alfred to have to leave Cambridge without completing his degree. Drawn to poetry from an early age, Alfred's first book of poetry was one he published with his brother when he was still a teenager. He published a collection of his own work shortly thereafter, to very enthusiastic reviews. But three years later, a second book was heavily criticized and Alfred was devastated. Though he continued to write, it was nearly ten years before he published another book. Ultimately, he became England's longest-serving poet laureate, spending more than forty years in that position and producing fine work until he was in his eighties.
There are no comments for this poem yet.