Here's to this train, to the wine
of Patagonia, the empanadas;
to this cut of meat
complicating the plate;
to the wild boar
that turned on its axis
in a restaurant window.

We raise our glasses
to the Porteno boy
who juggled five lemons
as the subway car staggered
and swung; to the barefooted girls
waiting in narrow doorways
with upturned palms.

I raise my glass
to the Patagonian sand
lifted and glorified by wind;
to the woman crossing her field
bent over her cane;
to her sheep; to the house
expecting nothing, and the tree,
blackened with dusk.

Here's to the Andean mountains
that sent snow to bury cattle
now breaded with sand.
To the moon, gleaming
like an olive. To all
who peer from half-opened doors.
May we wander the world,
forgotten, expecting nothing,
recording everything.

From Cathedral (Ronsdale Press, 2010).
Used with the author's permission.
†
†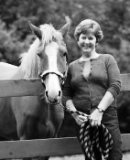 Pamela Porter lives on Vancouver Island with her husband, two children, and a menagerie of rescued horses, dogs, and cats, including a formerly wild mustang. The author of three poetry collections, Pamela won the 2005 Canadian Governor Generalís Award for her novel, The Crazy Man.† In addition to teaching at colleges and universities in both the U.S. and Canada,†Pamela has traveled extensively in Africa and South America to assist children in need through both her words and actions.
†
†
†
wendy morton:
I'd like to toast Pam Porter, for this wonderful poem, which celebrates so much, and what we can do best as writer, to move through our days, "recording everything".
Posted 01/01/2011 01:26 PM
karenpaulholmes:
Love the images in this poem -- a different world brought to life!
Posted 01/01/2011 12:22 PM
d. mahoney:
A toast to Pamela Porter, whose words circle and settle like the familiar warmth of a faithful dog, expecting nothing but giving all! Happy New Year!
Posted 01/01/2011 12:22 PM
Ginny C.:
Perfect poem for the new year--beautifully crafted, and I take the message to heart.
Posted 01/01/2011 11:35 AM
Gerri:
She is exceptional on all fronts! That was a real New Yr's morning treat...
Posted 01/01/2011 11:07 AM
Phyllis Beckman:
Oops! Sorry. I didn't include the comment, which was as follows. "This fantastic poem is why I begin checking my e-mail at 3:30 AM to see what gem the Your Daily Poem is sharing today!" Your Daily Poem never lets me down. Thank you for providing this daily inspiration.
Posted 01/01/2011 05:19 AM