I watch her differently now,
frame her smiling
in the kitchen doorway,
blow drying her hair
in the mirror; I add
a random
image here, image
there to the invisible album

I keep of her inside me:
riding a two-wheeler,
gap of missing teeth.

Now, as she readies
herself for college,
it's the ordinary I linger on ?—

her leaving, too large
for any one thing; it's more

uniform, indiscriminate
something like fog; no,
more like snow.
And I don't see, but feel
the air, full of her
lovely falling.

Isn't it always like this ?—
joy and sorrow calling
to each other
across an open field?

How strange the heart's
equivalents ——
she is leaving:
it is snowing.

From Talking Underwater (Wind Publications, 2010)
Used with the author's permission.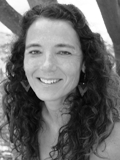 Sally Bliumis-Dunn teaches Modern Poetry at Manhattanville College. Her poems have been published in the Paris Review, Poetry London, Prairie Schooner, and the New York Times, among other distinguished journals. In 2002, she was a finalist for the Pablo Neruda Prize. Sally lives in Armonk, New York, with her husband, John, and their four children. Learn more about her here.
sarah:
"full of her lovely falling". Beautiful!
Posted 01/06/2011 07:24 AM
Linda Crosfield:
This is a very astute look at a very common experience for parents. Like this one a lot.
Posted 01/05/2011 11:40 PM
wendy morton:
isn't this what life is, "joy and sorrow calling to each other"? And what poetry is, as well. All we have to do is listen.
Posted 01/05/2011 03:25 PM
dianapoet:
Beautiful
Posted 01/05/2011 10:50 AM
Joe Sottile:
An open field, an open heart...As soon as a child comes into your life, a piece of your heart is ripped out, and it beats forever for your child, while you hope and pray for the best life possible.
Posted 01/05/2011 10:46 AM
Carol Hauer:
My children live inside of me, at every age they have ever been.
Posted 01/05/2011 10:24 AM
Jo:
Sally, Such a poignant poem and I thought about my own daughter's leaving, "joy and sorrow calling to each other across an open field." A beautiful line, so true.
Posted 01/05/2011 10:15 AM
dotief@comcast.net:
So beautifully sad and true, all at the same time.
Posted 01/05/2011 08:20 AM
bpdethlefsen:
Wonderful. Perfect.
Posted 01/05/2011 08:07 AM