Going out of business sale
at the Irving Street Pharmacy.
Everything in the store, 70% off!
I load up my basket with reading glasses,
silver nail polish, an ace bandage, thermometer,
sympathy cards, chartreuse thread, clothespins, Halloween
napkins, tweezers, BenGay, spiral notebook, zinc, cold cream,
bobby pins, Emeraude by Coty, and an assortment of sugarless gum.

The check-out line is long.
The man in front of me
has nothing in his hands.
He's slim, with a craggy face
unshaven in a sexy way.
His clothes are clean
collar and cuffs frayed
cowboy boots cracked—

Are you in line? I ask
Yeah, sort of, just buying some cigs.
Great bargains here, I say.
I'm an alcoholic, he says.
Oh, what's your drink of choice?
Whiskey.
Straight?
Yup. Straight, no chaser.
Bad for the liver.
Sure is.
And cigarettes?
Camel, no filter.
Of course. He looks me straight in the face.
And what's your addiction?
I pause. We both look down at my basket.
© Margaret Chula
Used with the author's permission.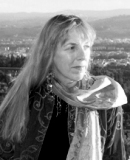 Margaret Chula lived in Japan for twelve years where she taught creative writing at Kyoto universities. She has published six collections of poetry, most recently What Remains: Japanese Americans in Internment Camps, a collaboration with quilt artist Cathy Erickson. Specializing in Japanese poetic forms, Margaret teaches workshops at universities, Zen centers, and at poetry conferences. One of her haiku was printed on Itoen tea cans distributed throughout Japan. This year, Friends of Chamber Music has appointed her their Poet Laureate, to create original poems for each concert. Margaret lives in Portland, Oregon, where she enjoys hiking, swimming, gardening and sitting in the window seat watching clouds. Learn more about her at www.margaretchula.com.
dianapoet:
I like the poem
Posted 01/06/2011 11:42 AM
Carol Hauer:
I loved the honest conversation at the checkout counter. Yep. All sorts of addictive behaviors...
Posted 01/06/2011 11:08 AM
dajoslyn:
Isn't this what many of us do? Can't pass up bargains, even on things we don't need or even want. What a great poem!
Posted 01/06/2011 10:15 AM
dotief@comcast.net:
I love and have worn Emeraude since I was a girl. How then could anyone pass up a 70% savings on that?! Wonderful poem!
Posted 01/06/2011 08:29 AM