were granny boots,
purple and black.
Above the ankle
hooks for black laces.
Thin leather.
No linings.
Too narrow in the toes,
no arches,
but I wore them
as often as possible
in fall and spring.
In those days
I wore skirts,
and I remember one
purple paisley fabric
very full
that caressed the boots
like soft whispers.
Ah, to be young
and you on my feet again.


© by Estella Lauter.
Used with the author's permission.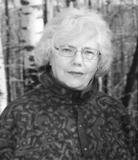 Estella Lauter began writing poetry in the 70s as a means of keeping the parts of her life as a mother, wife, professor, commuter, traveler, writer, sailor and woodland hermit together. In retirement on the Niagara Escarpment with her husband, she has turned to poetry to make sense of the world. She recently published two chapbooks with Finishing Line Press and tied for first place in the 2009 Barbara Mandigo Kelly Peace Poetry Contest of the Nuclear Age Peace Foundation. With grandchildren in Iowa and California, she still spends a lot of time on the road.
dianapoet:
I like the poem
Posted 01/09/2011 03:59 PM
Joe Sottile:
My daughter, April, had a tan and white cowgirl dress that she loved to wear 24/7 for the longest time, when the world was young.
Posted 01/08/2011 12:02 AM