The Grass so little has to do --
A Sphere of simple Green --
With only Butterflies to brood
And Bees to entertain --

And stir all day to pretty Tunes
The Breezes fetch along --
And hold the Sunshine in its lap
And bow to everything --

And thread the Dews, all night, like Pearls --
And make itself so fine
A Duchess were too common
For such a noticing --

And even when it dies -- to pass
In Odors so divine --
Like Lowly spices, lain to sleep --
Or Spikenards, perishing --

And then, in Sovereign Barns to dwell --
And dream the Days away,
The Grass so little has to do
I wish I were a Hay!
This poem is in the public domain.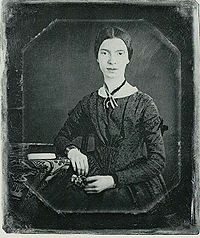 Emily Dickinson (1830 - 1886) is considered a major American poet, though she was not accorded this honor until well after her death, when her younger sister discovered and began to share the enormous body of work that Emily left behind. A recluse who almost always wore white, Emily was born to a prominent Massachusetts family and spent the bulk of her life inside her home in Amherst. Only seven of her poems were published during her lifetime, and virtually none were published as originally written until the mid 1950s. (Emily's odd punctuation, capitalization, and formatting did not meet with standard publishing "approval" for earlier editions.) There is a whimsical nature to many of her poems, although the subject of death was the most frequent recurring theme.
gigi:
Love the last line.
Posted 07/22/2014 05:32 AM
Katrina:
I love these oblique rhymes.
Posted 07/21/2014 11:23 PM