for Matt Welter
Matt tells me orb weavers
pluck silk strings and tack them
into lace, and that wolf
spiders are good mothers,
carry babies on their backs
like a hundred fiery jewels.
Never kill spiders, he says,
but instead push them
with an old Christmas card
into an empty jar
and carry them outside.
Still they sneak back in like frost.
In winter I give them
the run of my ceiling,
let them hide in my old shoes.
They leave tiny trails, stuff
cotton into dim corners,
go anywhere they please.
Do they know Iím trying
to save them? Sometimes I think
I hear their small voices calling;
I want to learn the stories
of their bodies, so like my own,
so durable and so full.


This poem first appeared in the literary journal Free Lunch and the chapbook, Flight Patterns†
(winner of the 2003 Main Street Rag Chapbook Contest, Main Street Rag Publications, Charlotte, NC).
Used here with the authorís permission.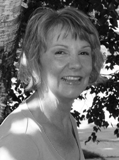 Karla Huston, Wisconsin's current Poet Laureate, lives in Appleton, Wisconsin. Author of six chapbooks of poetry, most recently An Inventory of Lost Things (Centennial Press, 2009), her book, Flight Patterns, won the Main Street Rag chapbook contest in 2003. She has earned numberous writing awards, including residencies from the Ragdale Foundation and Bread Loaf, and her work has appeared in many journals. Learn more about Karla at www.karlahuston.com.
LindaCrosfield:
Should be required reading for anyone who doesn't like spiders. Really enjoyed this one.
Posted 01/27/2011 02:07 PM
wendy morton:
Your imagery is delicious. This is a masterful poem.
Posted 01/27/2011 11:34 AM
jeanie:
yay karla!! i have your poem on a bookmark and i read it now and then. i've always loved it! so glad to see it here!
Posted 01/27/2011 08:47 AM
dotief@comcast.net:
My mother would never let us kids kill spiders, and I couldn't help but think of her when I read this poem. Thanks for the journey back!
Posted 01/27/2011 08:24 AM
Donal Mahoney:
I like this poem very much. It makes me wish that we did not have an infestation of the Brown Recluse spider in Missouri. Its bite can cause severe problems for people and they are difficult to differentiate from their harmless counterparts.
Posted 01/27/2011 07:17 AM
wordsmith:
Karla: So good to see your fabulous spider poem here. Cheers, Mandi
Posted 01/27/2011 06:54 AM
Gary Busha:
A wonderful poem from one of Wisconsin's best poets. Shows how to go from common to universal values. Glad to see this work.
Posted 01/27/2011 06:37 AM