The glittering roofs are still with frost; each worn
Black chimney builds into the quiet sky
Its curling pile to crumble silently.
Far out to the westward on the edge of morn,
The slender misty city towers up-borne
Glimmer faint rose against the pallid blue;
And yonder on those northern hills, the hue
Of amethyst, hang fleeces dull as horn.

And here behind me come the woodmen's sleighs
With shouts and clamorous squeakings; might and main
Up the steep slope the horses stamp and strain,
Urged on by hoarse-tongued drivers–cheeks ablaze,
Iced beards and frozen eyelids–team by team,
With frost-fringed flanks, and nostrils jetting steam.


This poem is in the public domain.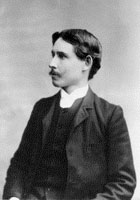 Archibald Lampman (1861 - 1899) was a Canadian poet who is often compared to America's Henry David Thoreau. Born and raised in Ontario and drawn to nature from an early age, Archibald was an excellent student but a bout with rheumatic fever left him in less than robust health. He taught briefly before taking a position as a post office clerk, a job he held till his death at the age of 37 from a heart condition caused from his childhood illness. Archibald began writing poetry during his college days, and saw his work published in Canadian, American, and British publications. He authored three books and is respected today as one of Canada's finest poets.
Phyllis Beckman:
A January Morning elicits profound respect tinged with incurable "poem envy"...,a phrase of highest praise.
Posted 01/28/2011 06:34 AM