My lover still loves me I know
despite the crazed look of antique
china on my cheeks and the rivers
of furrows around my narrowing
mouth.

He is content with the warmth
I offer and I have the grace
to ignore the belly sag
over his belt remembering
the time when he was young
and svelte.

Our bodies and faces
could use cosmetic help
but our appetites for laughter
and caress have not diminished.
If you see us holding hands
in the park, do not smirk
or regard it as a lark, the fires
of youth remain and love young
or old is ever the same.
© by Helen Padway.
Used with the author's permission.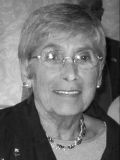 Helen Padway is theater trained and worked in both television and radio, writing and performing. She enjoyed a hiatus for love and family and is now the proud grandmother of fourteen grandchildren. Helen is a member of the Sparks and the Hartford Avenue Poets, is published both locally and nationally, and enjoys laughter and living in Glendale, Wisconsin. She is young enough to think that poetry can help change the world.
Carolyn Stephens:
I loved reading this after talking to you about your life after your husband's having passed. The two views enriched my appreciation. It was a pleasure to meet you. Carolyn Stephens
Posted 02/26/2011 10:44 PM
Vicjo:
A great poem from a wonderful woman whom I am grateful, happy and proud to call mom.
Posted 02/02/2011 11:35 PM
dianapoet:
Poem from the heart
Posted 02/02/2011 07:01 PM
lrkmus@sbcglobal.net:
Poetry DOES change the world. A lovely poem, and my day is richer for having read it. Thank you. LRK
Posted 02/02/2011 03:55 PM
Linda Lee (Konichek):
Whenever I am lucky enough to spend time with Helen, I think of how beautiful she is. And hearing her read her poems, assures me that her beauty is inside and out. If anyone can help change the world with poetry, it is Helen! What a treat to spend time with Helen and Phyllis and Marilyn and the other Hartford Avenue poets last Saturday at the Woodland Pattern Poetry marathon; there were so many wondrous new poets and many new poems that could "change the world."
Posted 02/02/2011 02:40 PM
Joe Sottile:
After I read this poem, I was going to write only one word, but I see that Joan has already written it. So, I'll simply say "Bravo!"
Posted 02/02/2011 12:35 PM
Joan L. Cannon:
Amen! And may her hope come true--something has to change the world. I even wrote an essay in defense of love as the subject of art to go up on a great e-zine (www.seniorwmen.com). There must be enough of us to help...
Posted 02/02/2011 11:42 AM
wersted:
Congrats, Helen! From your fellow HAP Ed
Posted 02/02/2011 09:50 AM
Shoshauna Shy:
Beautiful poem, Helen!
Posted 02/02/2011 09:43 AM
dotief@comcast.net:
I was thinking just the other day, how nice it was to have been with my husband lo these many years. We laugh so much and appreciate the dings and lumps life has served the both of us. You have captured so well my very feelings, Helen! Thanks!
Posted 02/02/2011 08:10 AM
Phyllis Beckman:
Padway speaks to my husband and I in this poem. Poetry is changing me. Poetry's power, patience, and persistence is "our little secret". Shhh.
Posted 02/02/2011 06:21 AM