After 30 years together,
Carol tells me late one evening
in the manner of a quiet wife
that I have yet to write a poem

about her, something she
will never understand in light
of all those other poems
she says I wrote

about those other women
before she drove North.
And so I tell her once again
I wrote those other poems

about no women I ever knew
the way I now know her
even if I saw them once or twice
for dinner, maybe,

and a little vodka
over lime and ice.
Near midnight, though,
she says again

in the manner of a quiet wife
it's been thirty years
and still no poem.
When morning comes

I motor off to town to buy
a paper and a poem
for Carol
but find instead

undulating in a big glass case
an apple fritter,
tanned and glistening,
lying there just waiting.

So I buy the lovely fritter
and a single long-stem rose
orphaned near the register,
roaring red, and still

at full attention.
I bring them home but find
Carol still asleep
and so I put the fritter

on the breadboard
and the rose right next to it,
at the proper angle.
When she wakes I hope

the fritter and the rose
will buy me time until
somewhere in the attic
of my mind I find

a poem that says
more about us than
this apple fritter,
tanned and glistening,

lying there just waiting,
and a single long-stem rose,
roaring red, and still
at full attention.


© by Donal Mahoney
Used with the author's permission.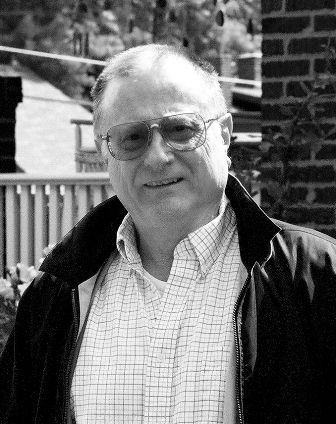 Donal Mahoney lives in St. Louis, Missouri. A native of Chicago, he spent the early Seventies actively submitting poems to print journals and enjoyed some success. He then took a 35-year hiatus from poetry to work as an editor of prose at such lofty establishments as the Chicago Sun-Times, Loyola University Press, and Washington University in St. Louis to support and educate five children. Upon retirement, Donal took to his recliner, and was perfectly happy sitting and listening to Gregorian chant all day. After three years, however, his wife interrupted with a Gregorian chant of her own. She bought Donal a computer and showed him where the boxes of still-unpublished poems had been stored in the basement for many years. Thus Donal began actively submitting again in June 2008. He has since had nearly three hundred poems published here and abroad, an achievement he credits largely to his wife.
loisflmom:
Lovely!! Food for the body, the soul, and the heart!! Donal, I hope you found a really wonderful one in the "attic of the mind"
Posted 02/06/2011 04:22 PM
Donal Mahoney:
I want to thank everyone for their kind comments about this poem. My wife did indeed like it but I really didn't know how it would go over with other folks.
Posted 02/06/2011 02:26 PM
Susan Cushman:
The cobbler's children....
Posted 02/06/2011 12:43 PM
cdebalinhard:
This one goes in my file of poems to keep. Thank you, Donal. Carol Anne
Posted 02/06/2011 12:09 PM
LindaCrosfield:
Can't wait to read this to Ted, for whom I just bought a red shirt. Beautiful!
Posted 02/06/2011 11:50 AM
wendy morton:
Your wonderful images, Donal. What a delight to read this poem. And thank you Jayne, for sharing it with us again.
Posted 02/06/2011 11:00 AM
Joan L. Cannon:
Oh, if only my husband could be here to encourage me! He hated reading what I'd written, and only hope he has forgiven me for all the poems I've written about him. Imagine numbering your creations in the hundreds--boggles my mind. I loved this one!
Posted 02/06/2011 10:12 AM
Buckner14:
Wonderful story, lovely poem. Aren't Donal & Carol a terrific pair!
Posted 02/06/2011 10:12 AM
Nissepete:
A fine poem. I think I'll use it for a valentines day reading. I've got 48 years of explaining to do. Nils Peterson
Posted 02/06/2011 09:49 AM
dotief@comcast.net:
I really love this poem! It says so much in simple bold images! I hope the wife is happy. I'd be thrilled with such a testament of love!
Posted 02/06/2011 09:17 AM
Julianne Carlile:
Great poem.
Posted 02/06/2011 07:18 AM
Phyllis Beckman:
Donal Mahoney had to be reminded a couple of times, but he heard his quiet wife, traversed his world and his heart and came up with a staunch, brave, loyal demonstration of affection and captured it in a quiet husband's poem. Apple Fritter and a Single Rose. What's not to love?
Posted 02/06/2011 07:06 AM