I couldn't grasp
the meaning of the heart
in high school. Mr. Sawatsky
and the science lab offering to help.
Clearly for understanding to arrive, he said,
be willing to take things apart.
Seize the scalpel, strip back the skin,
split wide the viscera waiting.
Not exactly the wonder of dog
asleep at my feet.
The heart leaps up.
Four white paws crossed in dainty asides
like he's never questioned love,
rub under collar, coo.
The human heart.
Toque and gloves on the counter.
Elbows on the table. Fork full of nothing
while it swings in the air to make its point.
Done. Scoop. Swallow. The man I married.
From Nobody Move (Sono Nis Press, 2010).
Used with the author's permission.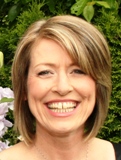 Susan Stenson is the author of three books of poetry, plus a chapbook, and teaches English and creative writing. Her work has appeared in most Canadian literary magazines and rides the buses throughout British Columbia via the Poetry in Transit program. Awarded numerous prizes, including first place in the Great Canadian Literary Hunt, Susan has been active in Canada's Random Acts of Poetry program and co-publishes The Claremont Review, a literary magazine for writers aged 13 to 19. She lives "ecstatically," as she terms it, in Victoria, British Columbia, with her family.
Reganz:
thanks for another poem to set me thinking about the mysteries of the heart and start my day with.
Posted 02/08/2011 05:05 PM
trailpny:
who says you can't write about the heart anymore? Susan just did it. Lovely!
Posted 02/07/2011 10:33 PM
wendy morton:
what a wonderful love poem this is; and as always a poem full of heart.
Posted 02/07/2011 12:08 PM