I was dared into it - maybe by Gibson Brown, whose
girl she was if she was anyoneís girl. New Yearís Eve,
maybe, but not midnight. I gave a little peck. I was nothing
if not polite. She said: "Thatís it?" So I tried once more.

I feel again the softness of her lips and the arching
yield of her back and the way I felt touched along
my whole length. I plummeted down into my body
from wherever I usually lived. She closed her eyes,

going somewhere I couldnít imagine. I kept mine
open, watching. Something in her was so certain,
so sure, so different - none of the boastful,
hard, boy-talk had prepared me for that.


This poem first appeared in Red Wheelbarrow in 2010.
Used here with the authorís permission.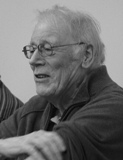 †
Nils Peterson is Professor Emeritus at San Jose State University where he taught in the English and Humanities Departments. Chosen as Santa Clara County's first Poet Laureate in 2009, Nils has published poetry, science fiction, and articles on subjects as diverse as golf and Shakespeare. In February of 2011, Poetry Center San Jose will publish a larger collection of his works called How Things Happen, as part of its Caesura Series. Learn more about him here.
†
Buckner14:
Lovely!
Posted 02/15/2011 08:35 PM
Shoshauna Shy:
This poem makes me want to buy one of your books - which I am about to do -
Posted 02/09/2011 04:24 PM
dianapoet:
Captures the moment
Posted 02/09/2011 10:53 AM
Donal Mahoney:
Nils, You capture an era in time that we both share. I don't know if it's possible today for an adolescent boy to experience a kiss like this. Back then, you and I had to get married if a kiss like this made us want more. I wanted more and so I got married and the result was 5 kids, no twins, in 6.8 years, children their mother wanted and that I was only too happy to cooperate with her in providing. After the fifth child was born, I bought our first TV. The year was 1968--and our society seems to have gone bipolar since then. Donal
Posted 02/09/2011 07:07 AM