I am Queen of this messy desk, matted hair,
and whatever breed of sunflower
I try to grow. I am Queen of long
lost keys, and of this lazy,
lazy chair. I am Night Queen falling
into the stars, Day Queen of streams
with a notebook on the edge.
Because you love me, I am Queen
of all things rotten and dainty like the cracked
robin's egg in the mud of my hand. I am Queen
of everything, Queen of nothing and all between.
Queen of each pebble splash and sinking rock,
Queen of a thirsty heart with rusted, dirty lock.
© by Anjie Kokan.
Used with the author's permission.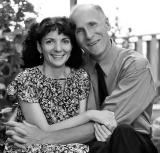 Photo by Jody Mack
Anjie Kokan is an internationally published and award-winning writer who enjoys life in the Kettle Moraine area of Wisconsin with her two children and poet husband, Robert. Inspiration for her writing comes from those she loves. Her work has been featured in many publications including The Upper Room, Mezzo Cammin, and Mamazine. One of her writings on autism is in the newly released anthology, Gravity Pulls You In: Perspectives on Parenting Children on the Autism Spectrum. When she isn't writing, growing sunflowers, or spending time with loved ones, Anjie teaches adult ESL and facilitates creative writing workshops. You can find out more about her here.
Kyra anderson:
Oh! This is beautiful. Yes! I feel like this today, especially: "I am Queen of all things rotten and dainty like the cracked robin's egg in the mud of my hand." Thank you, Anjie!
Posted 02/14/2011 09:52 PM
Jo:
Anjie, A wonderful poem! I especially like, because he loves me (everything is accepted) You are truly a queen. Jo
Posted 02/10/2011 06:46 PM
Linda Lee (Konichek):
Anjie, You and Robert are two of my favorite poets, as well as people who are capable of changing the world with their words and deeds. Your images are wonderful and this poem is so...you!
Posted 02/10/2011 11:49 AM
wendy morton:
I love how this poem starts with the ordinary and then sweeps into the world: lost keys and pebble splash. Lovely.
Posted 02/10/2011 10:27 AM
Liz:
A woman who is loved IS a Queen, isn't she?
Posted 02/10/2011 07:49 AM
dotief@comcast.net:
I love how this poem stirs feelings I didn't know I still had. I think of my mother who was certainly Queen of all she surveyed which was a garden carefully and lovingly tended. Great poem!
Posted 02/10/2011 07:30 AM
Phyllis Beckman:
Me too, Anjie. It's GOOD, being Queen, isn't it?
Posted 02/10/2011 05:47 AM