You said you were forty
when I first phoned you.
But I was lonely
and forty sounded
not so bad,
all things considered.
On our first date
I showed you rockets -
firing.
You were frightened
and dove for the shelter
of my arms.
Later we drove to Patís
for hot dogs and drinks,
and when I kissed you the first time,
ahhh! on boysenberry-wetted lips!
From Scattershot, A Collection of Unrelated Poems (Mina-Helwig, 2009).
Used here with the authorís permission.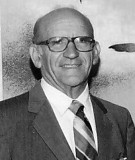 Edward Hujsak (1925 - 2018) was born in New Hampshire to a Polish farming family. A chemical engineering graduate of the University of New Hampshire, Ed worked on propulsion systems at General Dynamics during development of the Atlas and Centaur rockets. He was propulsion engineer on John Glenn's famous orbital flight and served as chief of preliminary design at General Dynamics Astronautics Division for ten years, accumulating more than a dozen patents in the aerospace field. In addition to his numerous engineering achievements, Ed was a writer, artist, sculptor, and builder of furniture and musical instruments. In his spare time, Ed made more than 2000 wooden birds, dogs, and race cars for the San Diego Fine Woodworkers Association, which distributes them to sick and needy children.
DavidV:
Engineers make the best poets, you know. So sorry to hear of Mrs. Hujsak's untimely passing.
Posted 02/13/2011 11:07 AM
Joan L. Cannon:
Inspiring.
Posted 02/12/2011 12:07 PM
dotief@comcast.net:
This poem is especially poignant given the sad news of Joy's passing. It is a most lovely tribute.
Posted 02/12/2011 07:40 AM