Bozeman Airport
Snow is falling everywhere, even
up from the tarmac in the trembling
around the engine barrels.
Two men in earmuffs in a cherry picker
aim pink foam from a fire hose;
the wing melts down to its metal.
An inch from my nose the plexiglass
ticks and stipples into archipelagoes
of water. One of the men waves a broom
as if gravity were a theory
and we slide back, slow in the weather,
to turn. Runway lights like blue matchheads.
The sky kneels down. Bits of sleet
fly off the engines like sparks,
crazy in the winglights. Then a jerky hurtling,
faster, till the airfield gives way
to sheer air. Nothing outside
has a name, the Bridger Range invisible,
ranches big as counties – gone.
No cottonwoods to give the river away,
no river. No earth, no edge. Not one fact
to tell how far there is to fall.
From As If Gravity Were a Theory (Cider Press, 2006).
This poem first appeared in Zone 3 and later appeared in
Another Way to Begin (Finishing Line Press, 2006).
Used here with the author's permission.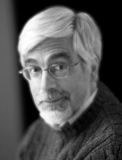 Don Colburn was born in Georgia, grew up in Massachusetts, and now lives in Portland, Oregon. A longtime newspaper reporter who didn't start writing poems until he was nearly 40, Don worked for The Washington Post and The Oregonian during the 33-year course of his newspaper career, and was a finalist for the Pulitzer Prize in feature writing. He has published three collections of poems, one of which won the Finishing Line Press Prize, and another won the Cider Press Review Book Award. Don's poems have appeared in anthologies and many magazines and he is a board member of Friends of William Stafford. Learn more about him at www.doncolburn.net.
wendy morton:
a masterful poem, full of lovely and brilliant images, exquisite poetic language.
Posted 02/25/2011 06:26 PM
LindaCrosfield:
Ah yes...I worked at airports in Montreal and Toronto for several years. You caught it, exactly, Don. Good one!
Posted 02/25/2011 12:53 PM
Ralph Murre:
From brilliant title through the unfolding of every line; a fine, fine poem. Indeed, the very one I've tried to write everytime I've flown, but have never come close.
Posted 02/25/2011 09:42 AM
jeanie:
I love this! How we think we know the names of things, how the always uncontrollable weather sets us right again. "Nothing outside has a name..." The undoing of snow.
Posted 02/25/2011 08:13 AM