Clorinda met me on the way
As I came from the train;
Her face was anything but gay,
In fact, suggested pain.
"Oh hubby, hubby dear!" she cried,
"I've awful news to tell. . . ."
"What is it, darling?" I replied;
"Your mother - is she well?"

"Oh no! oh no! it is not that,
It's something else," she wailed,
My heart was beating pit-a-pat,
My ruddy visage paled.
Like lightning flash in heaven's dome
The fear within me woke:
"Don't say," I cried, "our little home
Has all gone up in smoke!"

She shook her head. Oh, swift I clasped
And held her to my breast;
"The children! Tell me quick," I gasped,
"Believe me, it is best."
Then, then she spoke; 'mid sobs I caught
These words of woe divine:
"It's coo-coo-cook has gone and bought
A new hat just like mine."

This poem is in the public domain.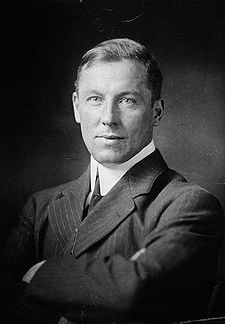 Robert Service (1874 - 1958) was a Scottish poet who became smitten with the Yukon Territory when he moved to Canada at the age of 21. Though he longed to be a trail-blazing cowboy, and many thought he indeed lived the life of which he wrote, Robert was, in fact, a bank clerk. After wandering North America for several years, working at odd jobs and various bank branches, he finally settled down in Dawson City, Yukon, some time after the Gold Rush. Robert began writing poems about his stark and beautiful surroundings, and about the legends and lifestyle associated with that part of the world. When his collection of poetry, The Spell of the Yukon and Other Verses, was published in 1907, it was an immediate success, made Robert wealthy beyond his greatest expectations, and earned him the nickname "The Bard of the Yukon." Robert alternated living in North America and Europe for the remainder of his life--even spending a few years in Hollywood; the cabin in the Klondike where he made his home is now a Canadian national park site.
Owl:
Chuckle. Thank you for a poem that reminds me of one of the strong women in my life. She loved Service's verse, and used to recite this piece when she needed to remind herself (or a certain teenaged girl) of the power of perspective! To me, this was an appropriate reminder of a woman who was involved in politics before it was legal for her to vote--a very fine thing for Women's Day.
Posted 03/09/2011 08:40 AM
Jo:
I have to agree with Dottie. A laugh is good for the soul. Especially with all the politcal stuff going on, the tragedies we read about everyday. Such a tendency for all of us to get things out of proportion. Kind of refreshing.
Posted 03/08/2011 10:01 AM
dotief@comcast.net:
I still have to laugh, though. I often find myself worrying over trivial concerns when there is so much need and sorrow in this world. Never hurts to be reminded NOT to sweat the small stuff! And Happy Birthday, Jayne!!!
Posted 03/08/2011 08:27 AM