Lizzie B. Davis is buried next to the road.
Driving past at 55, I turn my head in time to see
her stone name and wonder What's the B for.
She liked to know what was going on.
High on her father's shoulders, she tugged
his hair and kicked her small feet into his collar bones
to make him turn around and around.
Lizzie climbed a chestnut oak to spy
on the red-haired twins, deciding which one to marry;
chose the younger by three minutes for the way
he looked at her without dipping his head.
They built a flat-roofed house. No upstairs room to gaze from
but a porch she could sweep with an eye to the lane
and an eye to the field for her husband and sonsó
the eldest freckled and big-boned like his father, and three more
dark and quick, stair-stepping into hand-me-downs. Her girl
was stillborn, the one time Lizzie turned her face to the wall.
It's dusk, and I switch on my headlights, catch the eyes
of a raccoon lumbering along the ditch.
The B stands for a name not bequeathed.
Walking tomorrow in that family plot, I'll trace a line
from stone to stone, touch the stark dates that shuttered
Lizzie from the long view she loved beyond and beyond.

This poem first appeared in Still Home: The Essential Poetry of Spartanburg (Hub City Writers Project, 2008).†
Used here with the author's permission.
†
†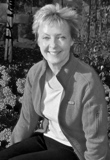 Elizabeth Drewry is a Shakespeare enthusiast, a yoga practitioner, and a half-hearted cook except for her specialty, peach pies. She's a charter member of the National Blues Foundation headquartered in her hometown of Memphis, Tennessee. Now retired, she was a newspaper executive for twenty-five years in New York and California. She lives in the beautiful foothills of the Blue Ridge Mountains, where she writes poetry and is working toward her first collection.
Ginny C.:
Nicely done.
Posted 03/15/2011 04:21 PM
twogforce@yahoo.com:
She's fabulous. I've always loved Lizzie B. Davis.
Posted 03/15/2011 09:19 AM
Buckner14:
Great use of imagination! And Jayne, I love your intros to the poems...such as this one.
Posted 03/15/2011 09:01 AM
Carol Hauer:
A made-up story is just as good as a true story...if it's told right. Yours is.
Posted 03/15/2011 08:52 AM
dotief@comcast.net:
This is so powerful and poignant! I love how it meanders through a life and then brings us to its end where we are asked to somehow understand Lizzie's sorrow. Very good poem!
Posted 03/15/2011 08:46 AM