Why is my father standing
in the apple tree,
feet splayed from branch to branch?
Why this temptation
of my father to carry his seventy-one years
into the branches of this tree

and point his clippers at the sky
as if he could snip a piece
of that blue cloth,
carry it into the house
and spread it over his bed?

Would it turn to darkness and stars
as he slept?

I stand below, watching him,
arms over his head,
shrouded in apple blossoms
cheery and wingy as angels,

and see him look skyward, past
the spring shoots racing
heavenward,

and I want to be gravity, pull my father
back to earth,
look him in the eyes with my grave face,
a little god taking him to task.

I want his feet on damp ground,
my arms holding him tighter
than this tree which cannot fathom
the word daughter.

It makes me afraid,
on this day of blooming possibilities
to see him stretching,
seeming so intent
upon heaven.

© by Pamela Porter.
Used with the author's permission.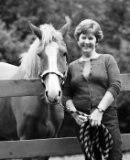 Pamela Porter lives on Vancouver Island with her husband, two children, and a menagerie of rescued horses, dogs, and cats, including a formerly wild mustang. The author of three poetry collections, Pamela won the 2005 Canadian Governor General's Award for her novel, The Crazy Man. In addition to teaching at colleges and universities in both the U.S. and Canada, Pamela has traveled extensively in Africa and South America to assist children in need through both her words and actions.
Cynthia Woodman Kerkham:
Beautiful, dreamy, poem. Killer last stanza!
Posted 04/10/2011 12:53 PM
Joe Sottile:
Yes, this is a wonderful poem for all the reasons already sited. I will want to "hold on" to it.
Posted 04/09/2011 11:31 AM
wendy morton:
If we could bring in the sky and let it cover us with stars. What a lovely image, lovely poem.
Posted 04/09/2011 10:24 AM
jeanie:
" a little god taking him to task " love this! yes, my father at 80 climbing his ham radio antenna ... totally.
Posted 04/09/2011 08:44 AM
LindaCrosfield:
"and I want to be gravity..." Love how you put this one together. Older folk and ladders, always a bit nervewracking.
Posted 04/09/2011 08:05 AM
dotief@comcast.net:
I loved the part about the cutout of blue that might "turn to darkness and stars/as he slept." The whole poem reminds me of my mother, who a month before her death, was out in her yard, digging out a tree stump all by herself. Aren't humans amazing?!?
Posted 04/09/2011 08:00 AM
Julianne Carlile:
That part about cutting a piece of the sky reminds me of one of the Mary Poppins books.
Posted 04/09/2011 04:41 AM