Last evening, I placed fresh towels on both dog beds,
heard scratching and rearranging in the night.
This morning, each dog lay curled
into a circle of towel
like a bird's nest.

How life loves
a circle:
the sun
cups of tea
pizza, roses, embraces
wedding rings, cathedral domes
bells with fat notes radiating like ripples from skipped stones
the egg, the womb, the round opening, downy heads
suckling mouths, breasts, full stomachs, eyes filled
with delight for bubbles and bouncing balls.

Why do we box ourselves into corners
put our babies into rectangular cribs
build square houses and boxy buildings
drive cars to perpendicular crossroads
stare at newspapers, monitors, dollars
go to our rest in hard-edged coffins,
slowly lowered into matching graves.

It's a comfort
to imagine our rounded bones
becoming round bits of the globe,
our spirits rising to orbit among spiral galaxies,
joining those who completed the circle before us.

This poem first appeared in Poetry East (Spring 2010).
Used here with the author's permission.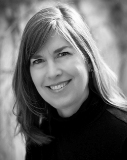 Karen Paul Holmes is a freelance business writer, poet, and writing workshop leader who splits her time between Atlanta and a beloved cottage in the Blue Ridge Mountains. Karen is the author of Untying the Knot (Aldrich Press 2014), which tells a story of loss and healing "with grace, humor, self-awareness and without a dollop of self-pity," says poet Thomas Lux. She enjoys classical music, theater (especially comedies), Ikebana, contra-dancing, ballroom, and spending time with her two Welsh Terriers and new "late life" beloved. Learn more about Karen at www.simplycommunicated.com or www.facebook.com/karenholmespoetry.
nemckay@yahoo.com:
I vote for round basinettes and circular playpens with Joni Mitchell's Circle Game playing in the background. Nice transition of images, Karen. I hear something new every time I read this poem.
Posted 04/14/2011 02:06 PM
Ryanavl77:
That's a very interesting thought Aunt Karen. It IS a comfort somehow, to imagine our rounded bones become bits of the globe.
Posted 04/14/2011 09:46 AM
TPercival:
I loved the unusual opening image, the dogs making their nests, and the way the author uses it as a transition into a meditation on the things which matter and those which matter more than they should.
Posted 04/12/2011 09:57 AM
karenpaulholmes:
Thank you all for the comments. William, that was absolutely lovely--thank you for taking the time to post it.
Posted 04/11/2011 08:27 AM
WilliamEverett:
Great to be with you at the Gathering of Poets, Karen, and then to have this pop up. I thought of one of my favorite quotes on this from Black Elk, which I post as a sidebar: Everything the Power of the World does is done in a circle. The sky is round and I have heard that the earth is round like a ball and so are all the stars. The wind, in its greater power, whirls. Birds make their nests in circles, for theirs is the same religion as ours. The sun comes forth and goes down again in a circle. The moon does the same and both are round. Even the seasons form a great circle in their changing and always come back again to where they were. The life of a person is a circle from childhood to childhood. And so it is in everything where power moves. From Black Elk, Oglala Sioux (1863-1950)
Posted 04/11/2011 08:21 AM
Glenda Beall:
Karen, I enjoyed this poem the first time I heard you read it and enjoyed it even more reading it here at Your Daily Poem. I especially like the last verse. Such a fine poem!
Posted 04/10/2011 10:16 PM
anitawen:
..the sun, cups of tea and on from there. Very nice. Anita W.
Posted 04/10/2011 09:29 PM
Rebecca:
Love this, Karen. There's something so intimate about circles!
Posted 04/10/2011 09:07 PM
Joe Sottile:
The last verse is spiritually satisfying, and it completes the poem perfectly!
Posted 04/10/2011 11:01 AM
Katrina:
I always fancied living in a Perrier bottle - probably just as well I never studied architecture!
Posted 04/10/2011 10:10 AM
tbrackeen:
Beautiful!
Posted 04/10/2011 09:11 AM
dotief@comcast.net:
Love the part about the dog beds, but I most especially love the end where our spirits "orbit among spiral galaxies,/joining those who completed the circle before us." Very powerful!
Posted 04/10/2011 08:35 AM