My neighbors arm for chemical warfare.
Their windchimes ring in a new spring:
Time to deploy their weapons of mass destruction
determined to drive the demon dandelion from
the politically determined sovereignty of
Kentucky Blue and Rye.

Why?,
I ask rhetorically
since my neighbors are entranced
in crusade-like zeal
to recreate nature in the image of
some revisionist natural history.

Who decided the dandelion was evil?
When did this happen,
and why?
Did they, the dandelions, participate
in the debate?
or were they excluded
their lobby shut out, left powerless
by lawn pharmacists
profit driven to pump the ground full of
lab concocted cocktails?

Herbicidal maniacs
deciding which species should be celebrated,
and which ones
scorned,
in the name of creating
a chemically dependent
suburban master race;

a proud parade of green and preened
pedigreed properties on display.
But to their dismay,
summer brings
drought
leaving drug-induced dream lawns
unable to cope
when exposed to the harsh sunlight
of reality;

left to go
cold turkey,
block after block of well bred Kentucky Blue blades
wither, pathetically begging
for a fix or at least admission
to a Betty Ford Clinic
for chemically dependent lawns,
while the weeds, thru sheer stubborn
determination and
natural selection
survive the onslaught in spring, and
flourish, smugly singing in
Dylanesque whine
"how does it feel?"


This poem first appeared in U.S. 1 Newspaper.
Used here with the author's permission.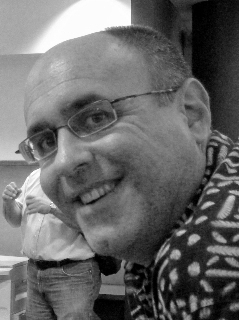 Tony Gruenewald was born in Manhattan, but grew up in the shadow of the water tower of the Edison Ford Assembly Plant in New Jersey. He has worked as a fast food fish fryer, on a loading dock, in broadcast journalism, and as an advertising copywriter. He currently works for the nonprofit Learning Ally and is pursuing a Masters of Library and Information Science at Rutgers University. Tony is the author of The Secret History of New Jersey (Northwind, 2009) and his poems have appeared in The New York Times, Adbusters, Exit 13, Slow Trains, U.S. 1 Worksheets and Edison Literary Review. Learn more at www.tonygruenewald.com.
Tsrvt:
Love this poem, extremely clever. I'm a recovering lawn chemist myself. Diversity deserves to be celebrated everywhere, even in the flora on your lawn.
Posted 12/29/2018 03:33 PM
jeeger:
I grew up looking forward to the 'lowly dandelion' as that was the main ingredient in Grandma's spring tonic salad, which she cheerfully fed to us to 'cleanse our winter-poor blood'. Grandma always shook her head at the folks killing this favorite ingredient of hers, saying, "Little do they know!"
Posted 04/12/2011 08:05 AM
Glenda Beall:
A fecitious look at the truth of all the chemicals used on lawns which end up in our rivers and lakes. We seem to believe, Better lawns throughh chemistry. Love the poem.
Posted 04/11/2011 02:13 PM
LindaCrosfield:
This is simply delightful! We love our non-lawn which is greening beautifully at the moment, having just escaped from under the snow. By July it'll be mostly brown. "...proud parade of green and preened/pedigreed properties on display"...great use of language.
Posted 04/11/2011 12:35 PM
Joe Sottile:
Yes, our lawns are chemically dependent, and we do battle with nature each season. The real question is when do I admit that I am old and purchase a sit-down mover? Excellent poem, Tony!
Posted 04/11/2011 11:08 AM
dotief@comcast.net:
So very true!
Posted 04/11/2011 08:32 AM
karenpaulholmes:
fun!
Posted 04/11/2011 07:35 AM
tbrackeen:
Love it!!
Posted 04/11/2011 05:38 AM