4 a.m. I'm scrubbing pots while big eyes 
of children stare at me from the TV 
and an old huckster tries to guilt me 
into donating money that will never find 
its way to feed those hungry children.
Just me and the street light streaming 
through the window, until the thunk 
on the driveway, and I can't make up 
my mind whether to go outside 
and get the paper, like who else would be 
out there except the delivery boy, 
and he's long gone, no stray dog to sniff 
me either, not at this time of day or night, 
which is it? I make a cup of tea, settle in,
and watch a paid ad for state-of-the-art 
vacuum cleaners and another for a chair 
contraption guaranteed to resculpt my body 
in six weeks—fat chance—although 
who throws money at ads if there are no 
likely buyers? I must not be the only one 
with eyes propped open, and it's cold, 
not May yet, I want to turn up the heat, 
but don't, because I should be upstairs 
under the quilt, at least pretending to sleep, 
make that old rooster earn his keep.

From Detours & Diversions (Main Street Rag, 2011)
Used with the author's permission.
.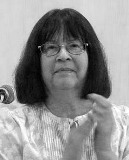 Nancy Scott began writing poetry in the mid-'90s, chronicling decades of social activism, but has now turned her attention to writing ekphrastic poems about works of art while simultaneously pursuing a career as an artist. A great fan of children, Nancy raised one biological son and three adopted bi-racial children and was foster mom to more than twenty others. Years ago, when she had the stamina, she ran a daycare center. Now she often writes about her grandchildren. Nancy's latest chapbook, Detours & Diversions, was published by Main Street Rag in February, 2011. More at www.nancyscott.net.
KevinArnold:
Unexpectedly unexpected. A joy.
Posted 04/14/2011 09:11 AM
Linda Lee (Konichek):
Wonderful scene, details and connection...thanks, Nancy.
Posted 04/14/2011 08:46 AM
dotief@comcast.net:
I love the part about the thunk of the newspaper. We dinosaurs who still get the paper have often had to wait for that blessed sound--one that soon may go the way of the dinosaurs as we digitize everything we hold dear. Enjoyed the poem!
Posted 04/14/2011 08:31 AM
gigi:
This reminded me of the night I bought three home-pasta contraptions in a fit of insomnia. One for me, one for each of my daughters. Never assembled, never used, never again! Here's to bucatini in the box. Great poem, Nancy.
Posted 04/14/2011 05:51 AM