For a quarter you could skate all night, 
with a boy, maybe, to hold your hand 
during the Moonlight Skate, his arm 
clutching your waist, both of you 

a little afraid of falling.
Maybe he would tie up your laces 
nice and tight while you tucked your 
shoes under the bench. He'd offer 

his arm, while you wobbled, then 
straightened and began the slow 
progress of becoming. Love Me Tender 
shivered on the record player, 

as his hips shimmied and your skates 
clacked as you picked up speed. 
Back then it was all about looking 
good, about the dizzy circle

moving fast and risky, letting 
the boy hold you steady while your 
skates buzzed the wooden floor, 
and standing outside later, touching 

hands, crickets fiddling around you, 
moth wings folding and unfolding 
in the light, that first kiss 
hanging in the air.

From Flight Patterns, winner of the 2003 Main Street Rag Chapbook Contest.
This poem first appeared in Poet Lore (2003).

Used here with the author's permission.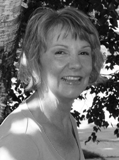 Karla Huston, Wisconsin's current Poet Laureate, lives in Appleton, Wisconsin. Author of six chapbooks of poetry, most recently An Inventory of Lost Things (Centennial Press, 2009), her book, Flight Patterns, won the Main Street Rag chapbook contest in 2003. She has earned numberous writing awards, including residencies from the Ragdale Foundation and Bread Loaf, and her work has appeared in many journals. Learn more about Karla at www.karlahuston.com.
Anjie:
Beautiful, Karla!
Posted 04/29/2011 12:51 PM
karenpaulholmes:
love this, now wonder it appeared in Poet Lore.
Posted 04/19/2011 10:09 AM
LindaCrosfield:
Took me back, it did! You invoked the images beautifully.
Posted 04/18/2011 01:47 AM
Joe Sottile:
Yes, a wonderful poem for many reasons!
Posted 04/17/2011 06:02 PM
wendy morton:
The lovely assonance of this poem: shivered,hips shimmied,dizzy,risky, crickets fiddling, kiss---ah, how I love the music of poetry.
Posted 04/17/2011 11:19 AM
mimi:
a lovely "blast from the past" on this Sunday morning, Karla. I am back in the '50's again! Sharon Auberle
Posted 04/17/2011 09:01 AM
KevinArnold:
Karla lets everyday phrases 'He'd offer his arm,' 'his hips shimmied,' 'letting the boy hold you,' fold in on one another until they climax in a first kiss.
Posted 04/17/2011 08:55 AM
Gary Busha:
Careful word choice and imagery here reveal Karla's expert control of language. This is a wonderful, nostalgic poem for those of us old enough to have experienced ice skating and excitement of that first kiss.
Posted 04/17/2011 08:15 AM
Gail Goepfert:
Love the movement in the poem, the build to the moth wings and the first kiss. Lovely!
Posted 04/17/2011 08:01 AM
jeanie:
nice, karla. takes me back a few years. i can hear the clack.
Posted 04/17/2011 06:36 AM