Praise for late sleeping day,
waking up without alarm,
for corkscrews,
corkscrew call of
yellowing lustful goldfinches,
butter,
opposable thumbs,
lusciously plush perfume
of viburnum
blooming in the woods
just now
just now.



From Digging for God (Wipf and Stock, 2010).
Used with the authorís permission.
†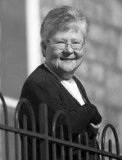 .
Anne Higgins teaches English at Mount Saint Maryís University in Emmitsburg, Maryland. She is a member of the Daughters of Charity, a religious congregation she joined at the age of thirty, and she has Amish and Mennonite connections through her maternal grandparents. A passionate birder and flower gardener, Anne is the author of five books and a two year cancer survivor. Learn more about her at http://annesbirdpoems.blogspot.com.
†
karenpaulholmes:
nice poem! I wrote a poem entitled "Waking Without Alarm," so it's interesting to see that line in your poem. Great minds think alike!
Posted 04/19/2011 10:07 AM
dotief@comcast.net:
Wow! Very nice!
Posted 04/19/2011 08:23 AM