big old bird, pelican belly-beak stuffed
with passengers who want want want
she's in the galley, loading the trolley
for her third trip down the aisle
small stain on her sleeve
gravy, perhaps, from the filet of steer
or juice from the unremarkable chicken
or fish
a few brave souls choose fish
blackened as if someone tried to cauterize it
they're going on an adventure
and the fish looks like a good place to start

she sits down long enough to bolt her own meal
thinks about the outfit she's making 
her daughter for the school play
how the cat seems to be getting better
whether she'll stay with her man

somewhere over the Grand Canyon
she collects wilted salads and drippy teapots
tells the guy in 15C to stay in his seat
'cause it's going to get bumpy

This poem first appearerd in The Minnesota Review (Issue 68, 2007) 
and was a finalist for the "Being At Work" contest. 
Used here with the author's permission.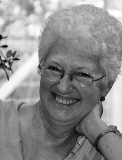 Linda Lee Crosfield lived in Ottawa, Windsor, Montreal, Toronto and Vancouver before returning to the Kootenays where she was born. She is not fond of winter, but lives quite happily nonetheless in Ootischenia (which means "valley of consolation" in Russian) in southeast British Columbia, where she spends her time writing poems and then massaging them to death. Linda Lee once walked into a post at the Toronto airport while reading a book. She shares her life with her husband, Ted, who is a woodturner, and Dudley the cat, who is lovely but loud. Learn more about her by visiting her highly entertaining blog.
judith gray:
What a wicked sense of humour!..... I've had the unremarkable chicken. Congrats. j
Posted 05/02/2011 11:17 AM
wendy morton:
this is a poem to read twice to catch its artful humour and compassion.
Posted 05/01/2011 11:16 AM
Reganz:
A good place to start indeed! A great way to start a work-day Sunday. Thanks Linda.
Posted 05/01/2011 09:44 AM
Joe Sottile:
Good one: "filet of steer"! I can just taste the fish, too! Bravo!
Posted 05/01/2011 09:19 AM
Jo:
What a fun way to enter the month of May. I laughed all the way through the poem. Thanks Linda.
Posted 05/01/2011 08:37 AM