Someday they will know the grief they gave us
Leaving the tank below empty
Leaving the towels on the floor
Leaving the lights on
Leaving tracks by the door
Leaving

© by Margaret Love.
Used with the author's permission.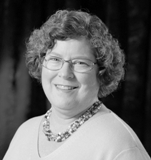 Margaret Love has over 20 years experience managing projects and project managers in information technology for the life insurance and utility industries. Long cross country flights give her plenty of time for reflection and writing. No books published – yet. A graduate of Charleston Southern University, Margaret lives in Greenville, South Carolina, with her husband and–sometimes–two young adult children.
nadia ibrashi:
Lovely and touching. Thanks.
Posted 05/02/2011 09:05 PM
Joe Sottile:
Yes, there is grief in their leaving, but there is a deeper grief if they never leave.
Posted 05/02/2011 01:43 PM
muselady11:
Absolutely exquisite. Perfect length, perfect impact. Thanks!
Posted 05/02/2011 12:14 PM
Carol Hauer:
Oh, my. As the mother of four grown children, the truth of that last line took my breath away. We always knew the day would come, but still...Moms, take every chance you can to hug those kids, then pick up the towels.
Posted 05/02/2011 08:47 AM
dotief@comcast.net:
Captures so well the double-sided nature of motherhood. Very nice poem, indeed!
Posted 05/02/2011 08:24 AM
Anjie:
Excellent, Margaret. Of course, you got me on that last line. Anjie
Posted 05/02/2011 07:17 AM
Gary Busha:
Yes! Excellent poem. Thanks to Love for this one about love.
Posted 05/02/2011 05:53 AM