What cruel fate to be consigned 
to exist as a zero, SS Something-or-Other 
stenciled on your tubular body

then hung by hooks on a vessel 
safe and seaworthy where nobody ever 
falls overboard. You are doomed 

to be ever prepared but never flung,
ready to float but never unhung, 
poised for rescue yet never used. 

O-ring of life, I sing your praises,
I bless your roundness, your doughnut 
holeness, your silent soundness.

But O, your youth is wasted, waiting for just one 
moment of truth that may not come, 
and not knowing whose life will be on the line,

I cannot predict the who, the place or time, 
the poor castaway adrift, the one lifting the alarm, 
the one requesting relief from harm. 

O, is it me? Look, I raise my arm. 


This poem first appeared in Main Street Rag (Winter 2010).
Used here with the author's permission.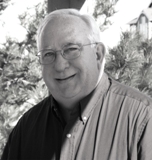 Richard Allen Taylor lives and works in Charlotte, North Carolina, as a Regional Human Resources Manager for a retail automotive dealership group. A graduate of the University of North Carolina at Chapel Hill, Taylor, having no idea he might someday want to be a poet, passed up an opportunity to double major in psychology and English because he did not care to enroll in the two semesters of poetry required for the English degree. After dabbling in poetry in his late 20s and early 30s, he abandoned poetry completely until, encouraged by friends, he picked up the pen again in his 50s. His first poems were published in 2002. Since then, his poetry has appeared in many literary journals and anthologies and he has two books to his credit.
karenholcombe:
Brilliant! So that's what you were doing on that cruise ship! O...your lifelong friend, Karen
Posted 09/05/2011 03:13 PM