Crows on a wire
miserably sopping wet.
Not so cocky now




Hummingbird shivers,
heavy rain spiraling down.
Bird, undeterred — zoom
© 2010 by Jana Kalina.
Used with the author's permission.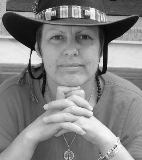 Jana Kalina was born in Bohemia (the Bohemian part of the Czech Republic) and lived a good portion of her childhood in Australia before coming to Canada. Her young adulthood was spent travelling and living in Europe. After obtaining degrees in Sociology, Psychology and Applied Communications, she worked as a freelance photographer, magazine feature article writer, and did some stints at a few newspapers. Since then, she has worked in social services and the educational system, as well as working as an independent editor. Jana's conversion to poetry was recent, rather sudden and complete. Good fortune has provided her with the opportunity to write poetry full time and she plans to start submitting work to publishers this year. Jana currently lives in Victoria, British Columbia, with a terrific husband and two wonderful — but uncooperative — wired-haired basset hounds.
sscresultsonline:
Posted 05/01/2015 06:06 AM