From the first burp 
of a shoot bursting its tomb
to the dozing off
of a harvested plant
life remains a mystery.


There is significance in small things:
the subterranean wisdom of earthworms
the collegial hum of bees
the fantasies of the cabbage grub
the silent plodding of beetles
and how ants and aphids conspire.

It takes a whole season 
of watermelon mornings
and peach nights,
all the moods
from mourning to petulance
languid afternoons
to sensual alyssum-scented nights
to grow a garden.


The gardener's watchfulness
doesn't keep squash 
from escaping over the fence
bindweed sneaking in
and slugs leaving glittering trails 
from leaf-bone remnants
of last night's orgy.

For some
salvation comes 
in cages twine and shears.
?
I, myself, am nothing 
without creeping shadows
the aging of rain
and the life of the wind


This poem first appeared on www.utmostchristianwriters.com
Used here with the author's pemission.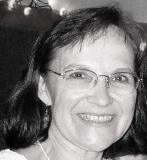 Violet Nesdoly grew up on a farm in Saskatchewan, the oldest of nine children. She learned early the pleasure of immersing herself in the words of others--a perfect way to avoid the noise and big-sister responsibilities of a large family. That soon morphed into a desire to try her hand at writing, resulting in publication, "way back when," Violet says, in the Western Producer's Young Co-Operator's page. She came back to writing in general and poetry in particular about twelve years ago and has since had poetry published in various print and online publications including Capper's, The Prairie Messenger, Good Times, Vogue Patterns, Time of Singing, and others. Violet has also published two books of poems — Calendar and Family Reunion. She currently lives in Langley, British Columbia, and makes a practice of never leaving home without her camera. Find out more about her at violetnesdoly.com.
Buckner14:
I wish my husband, an avid gardener, were alive tp see this poem. He would applaud every image! So do I.
Posted 05/11/2011 01:26 PM
Ben Bulben:
A beautiful poem--fresh, elemental images and a propulsive energy to the whole poem. Especially liked "the fantasies of the cabbage grub"!
Posted 05/11/2011 11:23 AM
KevinArnold:
Starting with an incredible first stanza, Violet creates a world filled with randomness and implicit forgiveness. A verdant landscape, lush.
Posted 05/11/2011 09:04 AM
Patricia Esposito:
This is beautiful--fresh and lovely images that wake our senses and bring us to that state of living now, in every detail.
Posted 05/11/2011 08:11 AM
Gail Goepfert:
Lovely images! Ah, "the aging of rain."
Posted 05/11/2011 08:00 AM
flygal716:
Beautiful! ~Toby
Posted 05/11/2011 05:41 AM