Round red lips pubaceous
Smile in the glossy of the party
frozen on the yellowing page,
A sentimental daiquiri
of tender expectations.
How, with whom and where
will teasing eyes find their reflection?
Who will find the woman
in the girl in the taffeta gown?


© 2010 by William Everett.
Used with the author's permission.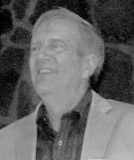 William Everett is a writer, woodworker, and liturgist. A former professor of ethics, he now lives in Waynesville, NC, where he says "woodworking flows from the native forests and novels emerge from diaries like mountain streams in spring." He is the author of an "eco-historical" novel, Red Clay, Blood River, that explores the deep connections between our own Trail of Tears and South Africa's "Great Trek." He is presently pulling together a collection of poems from the last thirty years for publication. Learn more about him and his work at www.WilliamEverett.com and www.WisdomsTable.net.
There are no comments for this poem yet.