that covers his face in the sun.

The glint that he sees there
creates prisms of spun glass
on a palette of sunset pastels

that lie behind black lines

of tree rings, as malachite

From Casting for Meteors (Finishing Line Press, 2011).
This poem first appeared in Avocet (Fall 2010).
Used here with the author's permission.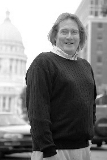 David Scheler's work has been published in numerous national and international publications. He is a member of the Wisconsin Fellowship of Poets, and serves as their designee on the Wisconsin Governor?s Poet Laureate Commission. Currently employed as a marketing researcher, David spent 15 years as a jewelry designer. When not writing or translating poems into French, he enjoys fishing, music, and nurturing the gardens on his ten-acre hilltop near Madison, Wisconsin.
jeanie:
I picture waking up from a nap on a river bank... "prisms of spun glass" love it!
Posted 05/15/2011 07:11 AM