Decimated by five hundred Hiroshimas,
the forest is gone . . .

Wherever I step,
ash, finer than ground glass, roils up . . .

In this graveyard, there is not a branch
for the wind to ruffle.

There are more downed trees
than the eye can count,

more logs in Spirit Lake
than any beaver could possibly dream.

Hemlock, spruce, and fir, stripped of bark, gray as driftwood,
lie on hillsides like quills on a porcupine's back.

In gullies, where snow shrouds melt, lichen sprout.
If enough dust blows away, fireweed burrows out.

I leave footprints
like Armstrong did on the moon.

At my feet, a spider, the size of an asterisk,
crawls over sand . . .

to begin again
start with small things.

This poem first appeared in American Land Forum and in Eighty on the Eighties: A Decade's History in Verse (Ashland Poetry Press).
Used here with the author's permission.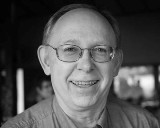 Mark Thalman lives in Forest Grove, Oregon, where he has taught 7th grade English for almost thirty years.  His poetry has been widely published in small presses, college reviews, anthologies, and e-zines for the last three decades. His book, Catching the Limit, was published by Bedbug Press - Fairweather Books as part of their Northwest Poetry Series. Mark has served as a Poet-in-the-Schools for the Oregon Arts Commission, Assistant Poetry Editor for the Northwest Review, and board member of the Portland Poetry Festival. He is also an artist who enjoys painting wildlife scenes with acrylics. His two Golden Retrievers, pictured above, are named Agatha Christie and Sherlock Holmes. To learn more about Mark, visit www.markthalman.com. To purchase Catching the Limit, click on the book cover and contact Mark via his email address.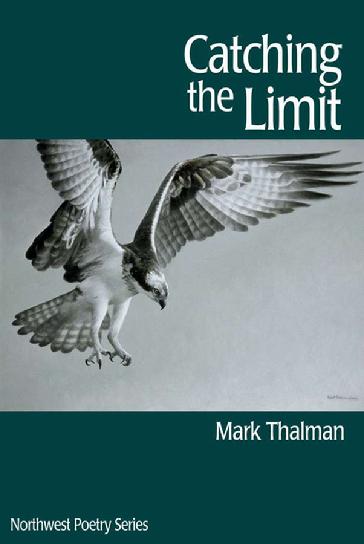 Eiken:
I found this very moving with the decimation in the opening lines and beginning again, with the small things in the final lines. There is so much hope in those last lines, so inspiring. Thank you for such a wonderful read. Maire
Posted 05/18/2011 12:49 PM
Nabby Dog:
What strikes me first is the gorgeous craft of this poem. Truly these are words of a master poet and I am grateful for the pleasure such inspired use of language brings. The lasting impression, however, comes from the mature wisdom of the poem and its declarations about how things end and how things begin again. What a wonderful addition to the already distinguished canon of poetry on this site.
Posted 05/18/2011 09:57 AM
dianapoet:
I like the poem. Last line is so true.
Posted 05/18/2011 08:50 AM
dotief@comcast.net:
I love this very powerful poem. The last line is perfect, and the similes and images leading to it are are wonderful.
Posted 05/18/2011 07:42 AM