Three days I have stalked
the name of the bird
with the pouched beak
resident of oceans, bays, lakes.
I have seen those water avians in photos, too—
covered with oil
they are stroked clean by patient hands.

Three days I have sought
the name of that bird,
racing through the alphabet to latch
onto a familiar letter.

I recall my mother, less fluent
as time whitened her hair.
Impatiently I supplied her words
when "thing" became an irritatant,
surrogate for the real thing.

Today, as I swayed to the rhythm of the rowing machine,
the creature emerged from its nest—
"Pelican" I exclaimed silently,
a wonderful word I won't concede to growing older.


© 2011 by Myrna Merron.
Used with the author's permission.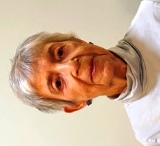 Myrna W. Merron lives in Pittsboro, North Carolina, having arrived there by way of the Bronx, Connecticut, Philadelphia, New Jersey, and Florida. Her love of writing was confined to reports during her career as a teacher, school psychologist, and professor of special education. Following retirement from paid employment, Myrna volunteered for several years as a guardian ad litem where she delivered more reports, but also found time to write articles for newspapers and journals. She ultimately turned to poetry, became absorbed with finding just the right words and phrases, and is now the author of two collections--My Walks and Prime.

KathyD:
What a wonderful poem! I sent it to my beloved sister, a year younter than I am. We both have lived through the impatience of supplying our mother with words -- and now find ourselves like you, not conceding "to grow older."
Posted 05/20/2011 07:21 AM
nadia ibrashi:
"Pelican" is a victory. I'll never read the word the same way again.
Posted 05/19/2011 12:50 PM
wendy morton:
I love the quiet building of this poem; it says so much and with such quiet restraint. Keep rowing, Myrna, keep finding your lovely words.
Posted 05/19/2011 11:40 AM
Eiken:
Wonderful poem Myrna, such an interesting take on words and writing. Maire
Posted 05/19/2011 09:31 AM
Katrina:
I love the stalking wordplay. If we knew all the words, we would miss the opportunity to de-scribe - looks like Pelican grants you a particular quill.
Posted 05/19/2011 04:53 AM