You said you knew the name
but couldn't think of what it was,
that "thing" with the pouched beak,
until three days later
it finally came to mind, "Pelican"!

Funny how a pulled thread
tugs at the other end somewhere.
The image of this bird
eventually finding its name
in the mind's foggy dictionary.

A wonderful word indeed, "Pelican",
reminiscent of a lake long ago
in the northwoods of Minnesota
where I caught my first fish
among glacial rocks and towering pines.

Like the early morning mist that hung
over the glassy surface of the water,
my memory now is covered in the shroud of time — 
the squeaking oars of my wooden boat
brought to mind by your rowing machine.

Funny how a pulled thread
tugs at the other end somewhere.
© 2011 by George Wentz.
Used with the author's permission.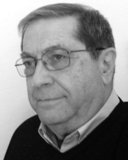 George Wentz spent 35 years in the insurance business and another 15 years in the hospitality industry. When he retired in 2008 (or was "let out of the box," as he puts it), George took the advice of a friend and begin dabbling in poetry. He's discovered that he enjoys this new interest immensely and, as a resident of scenic Door County, Wisconsin, has "a wealth of inspiration provided by Mother Nature." A member of the Wisconsin Fellowship of Poets, George also enjoys writing short stories about a variety of subjects.
Kay Sanders:
I love being let into your memories through the beautiful words of these poems and these replies. Pelicans have been rare among these parts, till the past few years. Now I see them weaving into the memory banks of my grandchildren along the shores of Lake Winnebago. One day I know they'll emerge from one of them as a poem.
Posted 05/21/2011 05:55 AM
loisflmom:
I live in a community named Pelican Cove in Sarasota FL, and am always amused to see the birds doing kamikaze dives into our bay, and coming up with a full beak. I never knew there were pelicans in Minnesota!! Both poems were lovely!!!
Posted 05/20/2011 11:53 AM
jc hartmann:
Yes, the Conversation among poets is why we write! Not just to be heard, but to hear, and to respond to one another in meaningful ways. These two poems, and the resultant comments from other readers, have wound that thread among us in beautiful ways today. Thank you George, and Myrna, for bringing the Pelican through our memories and into our thoughts today. There is no more socially connected bird than the Pelican, I think. Truly, they interact as One in quiet harmony.
Posted 05/20/2011 10:33 AM
Linda :
I've been in love with pelicans since I first encountered them on the Sea of Cortez. Lately I've written one poem about them, as they fly through Denver on their path south. It was a gift to see them here near the mountains, so far from the sea. We drove over the dam by the nearby lake, heading for an appointment, not hurrying, but not dawdling either. It was a ride with a great view. The sun laid its diamonds on the lake; one boat rocked along, a fisherman hoping for dinner. Of a sudden, into the distant view, a line of birds came cartwheeling, gliding, swooping. We saw flashes of black streaks on the white wings as the birds moved like waves at football games. We watched the creatures glide closer to the water, then, saw each separate and streak into the water. What are they, what glides in formations so sharp that no one is out of rank? What becomes only one so quickly, drawn by the sharp eyeing of a silvery flip? The pelican, right here, today, as a gift to us. They're down from the north, on the way south, dipping and again weaving their feathery souls into my heart, calling back the beaches of my past, when I first met these wonder birds. My gift today.
Posted 05/20/2011 10:06 AM
Sailordad:
George, The thread grows even longer as your poem evokes memories of my own, although a long way from the northwoods of Minnesota. Well done.
Posted 05/20/2011 08:43 AM
mimi:
lovely poem, and beautiful to see the interaction among poets!
Posted 05/20/2011 08:05 AM