Each season has its scent:
sun-warmed tomato
plants in summer;
apple-ferment for fall;
winter is a smoky drift
from the wood-burning stove.

But spring is a burst of perfume
so rare and exquisite
that even the humblest flower patch
is dabbed with Paris.
© by Christine Vovakes.
Used with the authorís permission.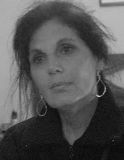 Christine Vovakes is a Northern California poet and freelance writer who grew up loving the tactile vividness of poetry. Hoping to instill that love in her children, she often read poems to them from the illustrated anthology, Talking to the Sun. Christine knew she was making inroads the day her son requested, "Mom, read me the one about how good the wind felt on a boy's feet." Christine's poems, articles, and photographs have appeared in publications ranging from the Journal of the American Medical Association and Christian Science Monitor to Boston Literary Magazine and the San Francisco Chronicle.
dotief@comcast.net:
Mais oui!
Posted 05/26/2011 08:14 AM
Donal Mahoney:
The last line is magnifique!
Posted 05/26/2011 05:44 AM