Dear Parents,
Forgive us. We've been swept away with your children.
We hope to return when school is over …
only, we don't know exactly when that will be,
for school never ends, really,
and now that this year is finished (or nearly so!),
your child will be handed safely to another one of us—
passed along like raindrops in this cycle of life learning
that we're all a part of—
we feel so fortunate, so fat-gilled, to have been on
the tadpole end of this adventure, that
we wanted to take a moment,
before the next wave arrives, and
our legs
are
as springy
and
long
as
our
tongues,
to let you know
we've been swept away with your children . . .
See you in the stream this summer!
The Teachers (Toddlers)
Brevard-Davidson River Presbyterian Preschool 2010

© by Suzanne Comer Bell.
Used with the author's permission.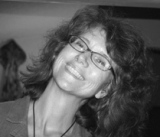 Suzanne Comer Bell is a writer and teacher of young children. In her twenties, she worked in book publishing, then became a freelance editor. Over the years, as she nurtured the words of others, Suzanne's own voice evolved. She began writing feature articles for regional magazines, and poetry, mostly for family and friends, and mostly for the sake of the feeling and beauty of the words. Suzanne lives with her husband and two daughters in Brevard, North Carolina.
Buckner14:
Brevard)my husband's home town) is a good place to find "the feeling and beauty of the words," for there is so much feeling and beauty in the land. As a former teacher, I deeply appreciated your words!
Posted 05/27/2011 10:13 AM
KevinArnold:
A riskiness in form pays off. Good work.
Posted 05/27/2011 08:52 AM
tannerlynne:
thnaks, Suzanne. LST
Posted 05/27/2011 06:44 AM