From a distance of time and place
we tremble as
the Earth's brown life-blood
escapes its arterial path.

Manmade levees and spillways
of concrete and steel
are but impotent efforts
to staunch the wrath of nature.

We weep as hope hemorrhages away
as dreams fall prey
to the silent storm.

God reminds us again
that we are not the masters
of our universe.
© 2011 by Tom Hooker.
Used with the author's permission.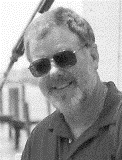 Tom Hooker is a native of Pontotoc County, Mississippi. He and his wife, Elaine, have lived in Hendersonville, North Carolina, since 1988. Tom terms himself "a rookie poet," but he's had a number of short stories published in national literary magazines. He teaches a creative writing class in the Community Enrichment program of Blue Ridge Community College in Flat Rock, NC.
nadia ibrashi:
Very nice. Thanks.
Posted 06/05/2011 09:42 PM
vawomann:
How true, how very true. Whether it's a huricane, tornado, flood, drought or snowstorm..."we are NOT masters of our universe".
Posted 06/05/2011 06:36 PM
dotief@comcast.net:
Very powerful! I love that in so few words this poet is able to capture the reality of natural disasters. Very nice!
Posted 06/05/2011 08:19 AM