For crying out loud,
It's only spilt milk.
The way your sharp cries rend
The air's thin silk,
The way your blue skies cloud
And take away our sun,
You'd think the world about to end
Instead of just begun.
This poem first appeared in Light (Summer 2005).
Used with the author's permission.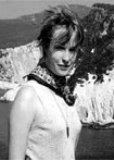 Daughter of a university professor and a librarian, Alicia Elsbeth Stallings gained an awareness of reading and writing at an early age. Fond of William Blake and T.S. Eliot (though she says A. E. Housman is her favorite poet), she began publishing poems while still in high school. A fan of classical myths and fairy tales, Alicia has established a reputation as a formalist; she is the author of two award-winning books and a Latin verse translation. Raised in Decatur, Georgia, she and her husband, John Psaropoulos, moved to Greece in 1999, where Alicia is program director for the Athens Centre and he is editor of the Athens News.
nadia ibrashi:
A lovely poem. I enjoyed the way it weaved the beginning and the end as a circle of life.
Posted 06/06/2011 10:55 AM
KevinArnold:
Blake, a favorite of mine, shines through in Alicia's work, and the formal thought (the begining and end of life.) The beginning couplet, for me, cleverly contrasts that formality with common speech patterns. Good work.
Posted 06/06/2011 08:59 AM