You'll be a good driver, he'd say,
when you know how to take a curve.
Just go in to it easy.
Keep your foot away from the brake, see,
and hold off giving any gas
until right when the widening out
starts to elbow in. You'll feel it.
Lean in to it then. Feed the engine
a little, let the curve carry you.
Might as well enjoy these twisty roads.
Halfway home to Georgia she lets off
on the gas to cruise around
another jut of loblolly pines
but the car hesitates
and the box of her daddy's ashes
comes sliding across the seat. Too soon,
he'd say. You've got to keep gassing it
until there's bend enough to maintain
the drive. There's more here than just
you and the car, Hon. Listen to the road.
© by Dana Wildsmith.
Used with the author's permission.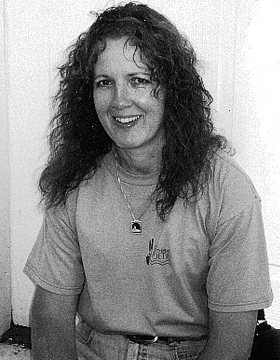 Dana Wildsmith is the author of four collections of poetry and a newly released memoir, Back to Abnormal: Surviving with an Old Farm in the New South. Born and raised in rural South Georgia, she traveled extensively as a Navy wife before settling in Bethlehem, Georgia, on a century-old family farm outside Atlanta. Dana's love of family, nature, music, tradition, and life's simple joys is the focal point of her poignant, compelling work, which has been featured in numerous journals, magazines, and anthologies, including the highly acclaimed Listen Here: Women Writing in Appalachia. She is a gifted, generous teacher as well, sharing her passion for language from ESL classes at Lanier Technical College to The Island Institute in Sitka, Alaska. Most recently, Dana was Artist-in-Residence for the South Rim of the Grand Canyon National Park. Currently, she claims she is turning into a recluse and social hermit to devote more time to a novel. Learn more about Dana at www.danawildsmith.com.
dotief@comcast.net:
Sometimes I wish there was a Go-Back button. If there had been, then I would have said: I loved the break after "Too soon." It makes the meaning twofold--too soon she lost her father, too soon she let off the gas. Things like that make poetry so incredibly powerful. Great poem! Sorry y'all.
Posted 06/12/2011 12:33 PM
dotief@comcast.net:
I loved the break after "Too soon" It make the meaning two fold--too soon she has lost her father, too soon she let off the gas. Things like that make poetry so incredibly powerful! Great poem!
Posted 06/12/2011 12:29 PM
trailpny:
Wonderful poem, with the unexpected, startling, at the end, but the poet just keeps on driving,staying with the poem. Good on you!
Posted 06/12/2011 10:25 AM
Buckner14:
I was enjoying the direction when the poem, like the car, hesitates and takes a turn. The last line is perfect.
Posted 06/12/2011 10:25 AM
Gail Goepfert:
Dana, what a lovely poem. How powerful--"there's more here than just you and the car." How that works on so many levels! Last of all, I like the name loblolly pine. Have to look that one up. I don't know it.
Posted 06/12/2011 07:32 AM