The color red can kill you,
something in the pigment,
but I'd prefer being done in by strawberries—
a quality fruit—than by tomatoes
or, God forbid, a jelly roll.

I see myself plunging my hand into a tin bucket,
seizing a strawberry by the stem,
and dangling it above my mouth,
juice sticky on my fingertips like blood,
and sinking my teeth into perfumed flesh:
The cold explodes on my palate like a scream,
stings my lips,
crinkles my tongue,
stains my teeth.
My throat closes around it.
I swallow the sun.

Yes, a red death I can believe in. But to go tamely,
my executioner the color gray, for example.
That would be inconceivable.

This poem first appeared in Haz Mat (Vol. 5 Issue 1), and also appeared in Daybreak (March, 1999).
Used here with the author's permission.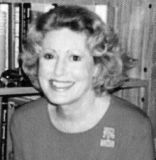 Diana Anhalt, a former high school English and history teacher and a newsletter editor, was a longtime resident of Mexico City up until recently, but is now living in Atlanta, Georgia. She comes from a long line of wanderers, which might help explain why much of the fiction she has published deals with exile, expatriation, and identity. Her articles and book reviews have been published in both Mexico and the United States and she is the author of A Gathering of Fugitives: American Political Expatriates in Mexico 1948-1965, (Archer Books, 2001). Diana's poetry, which has appeared in numerous journals, tends to focus on human relationships and quirky situations.
emusing:
"God forbid, a jelly roll." Ha ha! Love this Diana. As playful and delicious as you! Lois
Posted 06/27/2011 03:10 PM
travtales:
Heading directly to my local farmers' market! Thanks Diana for a delicious image.
Posted 06/22/2011 10:16 AM
karenpaulholmes:
Entertaining and well written!
Posted 06/21/2011 12:37 PM
pwax:
Fun to read and a great title.
Posted 06/21/2011 12:07 PM
LRL:
Yes, a red death I can believe in. Terrific line... thank you.
Posted 06/21/2011 09:03 AM
KevinArnold:
Sigmund Freud probably never actually said "Sometimes a cigar is just a cigar," but, after reading Diana's poem,there seems to be no doubt that a strawberrey could ever be just a strawberry. Fun.
Posted 06/21/2011 08:09 AM